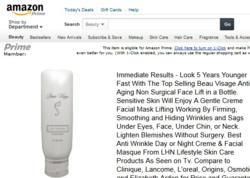 Today, we are seeing a dramatic surge in sales to both men and women, with many new customers in their 40's.
Tampa Bay, FL USA (PRWEB) May 21, 2012
"Look younger guaranteed or your money back!" It's a bold claim that's propelling sales of Liberty Health Network's (LHN's) Beau Visage Non Surgical Facelift Mask to yet another sales increase on Amazon.Com.
"Men, Women, and even post baby-boomers are buying the product at record levels." Said LHN Chief Financial Officer Tracy Grevert. "Two years ago, our Beau Visage customers were almost exclusively women over the age of 50. Today, we are seeing a dramatic surge in sales to both men and women, with many new customers in their 40's. And although we offer a rock-solid money-back guarantee, we have very few requests for refunds and lots of re-orders. We know we have a winner!" Grevert said.
It's not only the Facelift in a tube that's flying off the shelf. LHN is reporting strong sales in their Nutritional Products such as AlliSTAR Garlic Supplement, as well as surging sales in The Beau Visage line of products that includes the gentle but effective Beau Visage Facial Cleanser, The Beau Visage Toner with Which Hazel and Hyaluronic Acid (Top Facial Product as discussed on a recent Dr. Oz TV episode), and the Beau Visage Anti Aging Creme Moisturizer. Learn more about LHN's Beau Visage Facial Skin Care line at http://www.FaceLiftMasks.Com
About Liberty Health Network, LLC
Liberty Health Network is one of the nation's leading Direct and Internet Marketing companies with a state-of-the-art Global Distribution facility in Tampa Bay, Fl. For 12 Years, the Liberty Health Network name has been synonymous with high quality Mortechem-Free Nutritional Supplements, Anti Aging Skin Care, and Internet Web Applications. The statements made on this website have not been evaluated by the Food & Drug Administration. These products are not intended to diagnose, prevent, treat, or cure any disease.
Affiliates wishing to have their sites promoted are asked to send LHN an e-mail including the website address and requested keywords for inclusion in future Search Engine Optimized (SEO) campaigns. Affiliates may e-mail the above information to the company at the e-Mail address on this release.
Businesses or Individuals interested in distributing Liberty Products or requiring more information on this topic should contact Chief Operating Officer Russell Bly at (813) 774-8191 or e-Mail