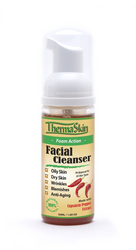 This natural soap uses the power of peppers and other herbals to rejuvenate skin and fight common adverse skin conditions.
Albany, NY (PRWEB) April 30, 2010
Greensations is announcing the launch of the world's first anti-aging soap made with the power of nature's own hot peppers under their popular ThermaSkin brand. Although the formula contains Capsaicin (natural pepper extract), there is no burning sensation because the dose is so small, but the results are big.
Capsaicin has been clinically proven to improve skin elasticity by increasing epidermal blood flow and reducing inflammation, but this is the first product to use capsaicin in a naturally mild face soap. ThermaSkin Facial Cleanser combines natural pepper extract with Green Tea, Jewelweed, Thyme, Sage and Cranesbill Root. This innovative formula is then mixed into a base of natural Castile soap, Witch Hazel and Cucumber water.
ThermaSkin's proprietary formula instantly tightens sagging skin while unclogging pores and replenishing color. Aside from increasing topical circulation, the capsaicin also desensitizes nerve fibers to neutralize topical skin reactions caused by environmental pollutants, sun damage, makeup and chemically based personal care products. ThermaSkin Facial Cleanser is also packaged in a self foaming pump bottle that doesn't require harmful sulfate based foaming chemicals like other soaps and non-soap cleansers.
"Our ThermaSkin pepper soap increases topical circulation and absorption on contact. A tiny bit goes a long way and it can be used anywhere on the body. It's great for removing dirt, oils and makeup, but it also works as a daily anti-aging treatment to reduce wrinkles and tighten skin without drying. Small doses of topical capsaicin also combat a variety of common skin conditions including acne, dermatitis, psoriasis, eczema, rosacea and more. It leaves your skin feeling as soft as a baby's bottom. The results are amazing, says Wayne Perry, founder of Greensations.
A 2006 study conducted by the Department of Bio-Defense Medicine, at the Nagoya City University Graduate School of Medical Sciences in Japan, showed topical capsaicin significantly increases skin elasticity. According to the study headed by Naoaki Harada and Kenji Okajima,
"Capsaicin increases calcitonin gene-related peptide (CGRP) release from sensory neurons by stimulating vanilloid receptor-1 (VR-1). Since CGRP increases the production of the insulin-like growth factor-I (IGF-I) in fetal (osteoblasts in vitro), it is possible that sensory neuron activation by capsaicin increases production of IGF-I. Topical application of 0.01% capsaicin to faces of 17 healthy female volunteers for seven days significantly increased cheek skin elasticity. These observations suggest that topical application of capsaicin and related compounds might be useful in the treatment of detrimental morphological changes of the skin in patients with growth hormone deficiency and those in the elderly by increasing dermal IGF-I levels".
In laymen's terms, capsaicin appears to reverse the aging process in skin by triggering nerve receptors to create new growth while repairing damaged cells. As nerve receptors in the skin respond to small doses of capsaicin, they trigger the body to increase the production of natural chemicals such as Collagen and Elastin. This leads to a complete rejuvenation of skin cells.
For more information, visit the official Greensations website. Free samples are available for qualified medical and media personnel upon request.
# # #