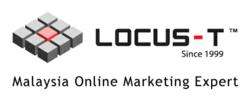 With the strong support from Facebook Singapore, we foresee in half year's time, we are able to push this advertising channel to most of our clients, with a healthy growth
(PRWEB) May 11, 2012
LOCUS-T, a reputed organization in Malaysia & Singapore specializing in online marketing as well as social media marketing now introduces an additional advertising channel: Facebook Advertising.
As internet and social media networks are getting more and more important to individual daily life and plays an important role in the process of decision making, LOCUS-T is obligated to catch up with the latest online marketing trends and introduce new media to their clients. In addition, customers' expectation is also getting higher, which they always hope for higher exposure and more precise market segment targeting for their products and services.
Thus, it is essential for LOCUS-T to introduce this additional advertising channel, which allows customers to advertise their companies' products and services on Facebook through demographic targeting which is very much different from search marketing and content network marketing.
LOCUS-T is proud to announce that they have connected with Facebook Singapore (South East Asia Region) and obtaining full technical & marketing support from Facebook. LOCUS-T's experts were trained directly by Facebook online specialist in terms of technical & marketing aspect.With the support from Facebook Singapore, LOCUS-T believes that they are able to provide faster response to their clients in regard to any Facebook advertising issues as well as doubts.
The experts in LOCUS-T is not only well equipped with the process of Facebook advertising nonetheless providing clients with all types of assistance with all kinds of assistance in order to give their clients' websites higher exposure as well as to increase branding awareness.
"With the strong support from Facebook Singapore, we foresee in half year's time, we are able to push this advertising channel to most of our clients, with a healthy growth," said Joseph Ting.
About LOCUS-T ONLINE SDN BHD
LOCUS-T Online is a Malaysian-based organization which has 12 years of experience in Malaysia & Singapore and provides internet marketing strategies & web development services to enhance their client online business presence while ensuring that their website reaches out to the right audience. Besides, LOCUS-T Online is the first homegrown internet marketing company in Malaysia which has earned the respected status of Google AdWords Certified Partner and Yahoo! Search Marketing (SEA) Authorised Reseller.Some of their key clients are: Exim Bank, FlyKLIA, Rentokil Malaysia, P1, Purple Cane, Symphony, Ayam Brand, YTL and more. To learn more about LOCUS-T Online, visit http://www.locus-t.com
Contact
Company Name: LOCUS-T ONLINE SDN BHD (808652-D)
Contact Person: Deric Wong
Telephone Number: 603- 71182173
E-mail Address: sales(dot)my(at)locus-t(dot)com
Website Address: http://www.locus-t.com