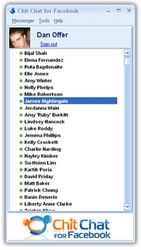 Chit Chat is a great new way for friends to stay connected.
Oxford, England (PRWEB) August 21, 2009
Launched today, Chit Chat released its new Chit Chat for Facebook Instant Messenger that combines the popularity of instant messenger services with the most popular social networking website Facebook. The innovative instant messaging application, which connects to Facebook Chat, provides the convenience and ease of an instant messenger whilst communicating over the Facebook Chat service.
Chit Chat for Facebook is a free instant messenger that allows you to chat with all your Facebook contacts in real time with its unique, swift and easy to use tabbed message window interface. Chit Chat allows you to hold multiple conversations without multiple windows.
Accessing the popular Facebook community, over two-hundred million strong and still growing, Chit Chat removes the need to use a web-browser to communicate over Facebook Chat . Most importantly, Chit Chat makes it much easier to catch up with, as well as, make new friends.
The Chit Chat developers have taken a fresh perspective on building a user base from traditional instant messengers, bringing its instant messenger to the web 2.0 environment of Facebook where friends are already connected.
"Users simply use their existing Facebook friends list and don't have any need to create or maintain a new contacts list," said Daniel Offer, Chit Chat co-founder. "Chit Chat is a great new way for friends to stay connected."
Benefits of Chit Chat for Facebook

Fun and Free - Convenient and fun way to socialise with your Facebook contacts without the hassle of surfing Facebook
Easy to Use - Download, install and then login with your Facebook user name and password - easy!
Tomorrows Conversation Is The Start Of Today's - With Chit Chat history, your conversations are saved until you say the conversation is over, you can pick up your last conversation where you left off. This is perfect for recollecting those funny conversations or solving those arguments over who-said what.
Popular? No Problem! - Tabbed messaging window, making it easy to talk to lots of friends at once
Instant Message Notification - Let's you know when you receive a new instant messenger so you can get on with whatever your doing whilst your talking
Status Updates - Chit Chat let's you know when your friends are available to talk to and when they have signed out. This is much easier than refreshing your contacts list in Facebook Chat.
Free Your Web-browser - No need to keep your web browser logged into Facebook
About Chit Chat for Facebook
Chit Chat's mission is to make keeping in touch with friends, old and new, easier.
Created in 2009, the innovative instant messenger Chit Chat for Facebook is set to be a valuable addition to the global communications market. Chit Chat is a partnership by the young entrepreneurs Daniel Offer and Henrik Larsson.
Daniel Offer (22), England - self confessed Facebook and instant messaging addict, was educated at Warwick University.
Henrik Larsson (22), Sweden - graphic and gaming artist educated at Blekinge Technical University
###