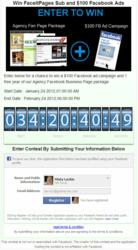 The viral component of this application is essential to not only capturing 'Likes', but capturing leads
Grover Beach, CA (PRWEB) February 02, 2012
Running a contest on Facebook can be a powerful tool in gaining page likes. A recent study conducted showed that the number one reason a visitor would like a page on Facebook was to be notified of upcoming contests and promotions.
"The viral component of this application is essential to not only capturing 'Likes', but capturing leads," says Misty Lackie, CEO of FaceItPages, "every new contest entry is a new potential client and another vector for spreading one's message, and FaceItPages keeps track of all that information for our users."
Once a person enters the contest, they will be given a link to share. Every new contest entry gained from that link will earn that person another entry, increasing their chances of winning. When the contest ends, the app will choose a random winner from the list of entries.
In addition, FaceItPages provides a downloadable list of all the entrants – including their name, email address, phone number, and the date they entered the contest – in case the user would like to follow up at a later date.
FaceItPages is the creation of Go Smart Solutions, LLC, a company that has been providing premier self-serve advertising solutions for professionals since 2002. FaceItPages is a simple do-it-yourself Facebook page creation service that provides a number of popular applications as well as in-depth reports of a member's page statistics.
###