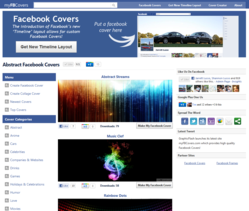 myFBCovers.com, The First Ever Facebook Covers Website!
Bethpage, NY (PRWEB) October 06, 2011
GraphicFlash LLC is proud to announce their new website, myFBCovers.com, just in time for the release of Facebook's NewTimeline layout.
myFBCovers.com is a facebook application that allows the user to customize the facebook cover on their New Facebook Timeline. It was created by GraphicFlash LLC, a company which was started by two college students who wanted to make innovative websites. Following the success of their previous venture, Facebook Banners "aka" myFBBanners.com, they were searching for the next big thing when Facebook announced that they were changing the old profile to the new Timeline layout. That same day, myFBCovers.com was created, making it the very first facebook covers website.
myFBCovers.com boasts an impressive and ever-growing amount of premade covers which can easily be applied in just a few clicks. A distinguishing feature which is possessed by no other site is their photo collage cover creator. With just two steps, the user can create and apply a unique facebook cover which takes the user's selected friend's profile photos and tiles them, creating an attractive backdrop for the Timeline layout which, in the spirit of Facebook, showcases a user's friends.
Additionally, myFBCovers.com has a facebook cover creator, much like their popular banner creator from myFBBanners.com. It allows the user to upload an image of their choice, create a facebook cover from it, and apply it to their profile. User-created images are then put through a screening process and ultimately added to the library of existing covers. This ensures an ever-growing and updated library of facebook covers to choose from.
myFBCovers.com is currently gaining a lot of attention and even though it has barely been around for two weeks, it already has attracted over 6,000 users and over 2,000 likes on Facebook. It was featured and recognized as a premier example of a facebook cover website in articles by AllFacebook, TechCrunch, and MSNBC. The developers are hoping that it will surpass the success of their last venture, myFBBanners.com, which itself achieved over 300,000 lifetime users and over 150,000 likes on Facebook and over 600,000 facebook banners downloaded.
The developers at GraphicFlash LLC are very excited about how quickly myFBCovers.com has been catching on, even before the official public release of Facebook's Timeline layout. myFBCovers is currently the first website in the facebook cover creator game, and it has a huge potential to expand as the developers are constantly improving the website and adding new features.
###