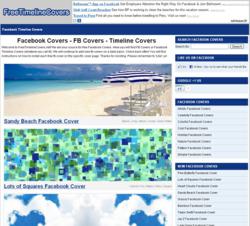 Free Timeline Covers launches to offer free Facebook Covers
Los Angeles, CA (PRWEB) October 13, 2011
With the release of Facebook's new Timeline profile layout only days away, FreeTimelineCovers.net launches to provide a range of quality Facebook Covers free of charge.
Free Timeline Covers is an application that allows users to search through a database of Facebook Covers that are organized by tags, decide which cover to use, and finally install the Facebook cover. The site launches with the ability to not only install a cover manually by following a few easy steps but has also created an auto-uploader that interfaces with Facebook's new Open Graph API, making installing a Facebook cover very easy.
The creators of Free Timeline Covers enter the scene with an impressive history since the Myspace days by offering Myspace Layouts and to most recently offering Twitter Backgrounds for Twitter users. "We know what users want, they want access to a large amount of free covers and most importantly they want to be able to express themselves through the cover that they have so carefully selected. On top of all that, this process must be easy and fast," say the owners.
While Free Timeline Covers has just launched, the site already has a range of categorized Facebook Covers including artistic, celebrity, colorful, holiday, nature, pattern, simple and more. They are also proud to announce that in just a short 24-hour period, they have already served over 500 users by allowing them to express themselves through timeline covers. The creators are excited with the new Facebook Timeline profile as it allows users to express themselves through a single image and are proud to be serving the Facebook Community
About Free Timeline Covers:
FreeTimelineCovers.net was established to provide high quality Facebook Covers for all Facebook users for free. The site makes creative and appealing Covers on a daily basis. User are able to manually install Covers or use an auto-uploader to easily upload a Cover.
###