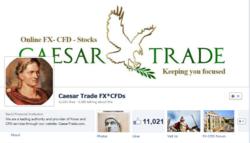 "Forex Trading is a Lifestyle."
Dayton, OH (PRWEB) December 11, 2012
After spending 2012 trying different methods in engaging traders through the traditional methods available to Forex Brokers, CaesarTrade has found Facebook to be the perfect medium for both the trader and broker.
"I thought that if you place an advertisement on Google or buy leads and have a great product, traders will come automatically. What I found to be the case was the exact opposite, traders have seen and heard it all, so the only thing that differentiates one broker from another is the size of its operation, not the quality of its service." says Eric Harbor, ceo CaesarTrade FX-CFD. "And it's the quality of our service that separates us from other forex brokers and has created sustained success for us. While every broker pays affiliates to bring clients to us, we pay clients to participate and learn about the markets. Additionally, we give the little guy a chance to make money in forex."
What Facebook is capable of doing is leveling the playing field and allowing the same opportunity for a fledgling company to grow; in fact, the same reason that made ancient Rome so great - the ability to communicate. What the ancient roads of Rome were to commerce and military affairs, is Facebook to this generation. Forex traders spend most hours using different websites for information like forums, newsletters, books, blogs, news sites, use different forex brokers, and review sites. What they don't do is to simplify their approach and spend less time navigating with more time focusing. During November, CaesarTrade spent its efforts in experimenting with Facebook's powerful infrastructure in order to better assist the trader.
"Forex trading is a lifestyle" states ceo Eric Harbor of CaesarTrade FX-CFD "It has elements of finance, trading, luck. risk-taking, and superstition, but what it has in spades is the camaraderie of a group of people trying to succeed together. Forex and the internet are meant for each other and we want to be right there in the way of progress."
Company Information:
CaesarTrade FX * CFD was created for all kinds of traders. Everything that we offer is geared towards the goal of saving a trader time and money through tight fixed spreads, 24 hr access, every Currency Pair along with CFDs that cover Precious Metals, Energy, Commodities, Global Indexes, and Stocks Worldwide - From the US to India.
For more information on forex trading visit: http://www.CaesarTrade.com
If you use twitter, we try to provide some good links for you to look at: http://www.twitter.com/moneythoughts