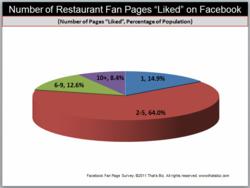 "Restaurant owners will get valuable Facebook insights from this free 32 page report."
Bloomfield Hills, MI (PRWEB) October 25, 2011
That's Biz, a leading online restaurant marketing firm, is providing a free 32 page report summarizing the results of a survey they conducted analyzing why customers visit and like restaurant Facebook fan pages. (Click here to request your free report.)
Restaurant owners are finding that getting customers to visit and like their Facebook page is more difficult than they expected.
"We thought it was important to first understand what customers want to see when they visit a restaurant Facebook page and what gets them to like a page," said Dave Gonynor CEO of That's Biz. "We created a survey that asked customers specifically why they clicked on the like button and what gets them to visit a restaurant Facebook page often."
That's Biz included the survey in the email marketing messages of its customers in July and August of this year. Dave Gonynor continued, "The survey was distributed to over 200,000 restaurant customers across North America. It included a cross section of different types of restaurants from fine dining to QSR to pizza."
The 32 page Facebook Fan Page Survey Analysis is available free of charge to anyone that would like the report. Just click on: Email Me the Report and a pdf of the report will be immediately emailed to you.
Dave concludes, "We think restaurant owners will get valuable insights from the report. The information played an important role in the development of our Like Us Love Us Facebook application."
About That's Biz:
That's Biz provides email marketing, Facebook marketing and online survey services for thousands of restaurant locations across North America. For more information visit http://www.thatsbiz.com.
# # #