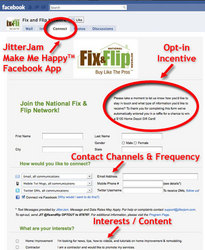 We see JitterJam—especially the new Facebook features—as a huge competitive advantage for our firm.
Bedford, NH (PRWEB) July 13, 2010
JitterJam™, a leader in Social Marketing software, today announced the availability of a group of Facebook marketing features and an embedded JitterJam Facebook application all aimed at helping brands and businesses develop close relationships with their Facebook contacts. JitterJam's unique Facebook capabilities enable businesses to drive deeper engagement with consumers, originate and manage their content and communications, create and execute marketing campaigns to their contacts, and generate a measurable return on their Facebook marketing efforts.
JitterJam's Facebook capabilities are centered around five core areas:

Facebook App for Consumer Opt-In. JitterJam's Facebook app creates a Connect tab on a brand's page that integrates with JitterJam's Make Me Happy™ permission marketing system. Page visitors can specify what kind of information they'd like to receive, their preferred contact channels and addresses (including email, mobile, Facebook and Twitter), and their desired frequency of communications.
Facebook Marketing Database. In addition to the Facebook app, JitterJam uniquely captures data and builds intelligence on each contact that posts to or comments on a brand's Facebook wall. The intelligence helps the brand determine which contacts are most engaged with the brand, segment the database and market to targeted segments of their contacts.
Consumer Engagement. JitterJam makes it easy to find or originate content and post it on the brand's Facebook wall as well as respond to comments and wall posts by contacts—all from the JitterJam platform.
Marketing Campaigns. Businesses can easily post and track special offers to their Facebook wall or create targeted campaigns to individual contacts. Cross-channel campaigns can help determine which communications channel drives the highest response and revenue.
Measurement and ROI. Track the growth and engagement of your audience, the effectiveness of your offers and messages and see how Facebook is enhancing your brand and driving new business.
"Businesses and brands are flocking to Facebook to deepen their connection to their customers, but they have limited data about their Facebook contacts and few ways move beyond light relationships with those contacts," said Ric Pratte, President and CEO of JitterJam. "JitterJam paves the way for brands to strengthen their relationships, develop connections within and outside of the Facebook channel, and directly connect and market to those people. JitterJam is a game-changer for Facebook Marketing."
"We were thrilled to see JitterJam's new Facebook features and put them into immediate use with our client National Fix and Flip Network," said Alex Gebhardt, Chief Social Strategist with Inside Media Networks. "JitterJam has allowed us to put real intelligence behind our client's database and extend that into our social networks. Now, not only can we integrate our social, email, and mobile marketing with our outbound efforts, we can also better learn how our contacts would like to stay in touch. The Facebook app was easy to setup, and better yet we can use the same form on our website and all our contact data and preferences are instantly stored in our JitterJam database."
"We are proud to be one of the early adopters of JitterJam and were happy to provide insight and feedback from our clients to make the product absolutely unmatched," said Walter Elly, Director of Internet Marketing at MicroArts Creative Agency. "We see JitterJam—especially the new Facebook features—as a huge competitive advantage for our firm."
JitterJam's Facebook app and capabilities are commercially available as part of the overall JitterJam service. Packages start at $290 per month.
About JitterJam
JitterJam is a comprehensive web-based Social CRM system that integrates social media, e-mail, and mobile marketing with an intelligent contact database and the tools needed to turn social conversations into trusted customer relationships. Consumer-facing businesses, brands, agencies and consultants are using JitterJam to develop their social contact database and drive return on investment for their integrated marketing efforts. JitterJam is headquartered in Bedford, NH. For more information on JitterJam and to sign-up for a free trial, visit http://www.jitterjam.com.
# # #