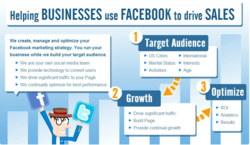 Los Angeles, CA (PRWEB) March 30, 2012
Back At You, a Facebook marketing company, highlights 4 must knows to grow and engage fans with the new Facebook Timeline.
The introduction of Timeline to all business pages is a major change for companies. Most companies have not mastered the previous format, now they are being asked to master a totally new format.
The way you build your audience and engage fans on Facebook is about to change in a big way. In fairness to Facebook, their stated goal is to give businesses more freedom for self-expression on their Page. There are a number of changes involved in Timeline, but here are the top 4 that will impact a business' page the most:
1. Introduction to a cover photo. The new cover photo is big and measures 851 pixels wide and 315 pixels tall. This is the main photo at the top of the page. Good cover art for your cover photo will be important to capture fan attention;
2. No more default landing pages. As a result, most tabs (apps) you currently have will become outdated (you heard it right, most apps will never be seen). When a user comes to your Facebook page organically they will land on only one page, that is the main page with your cover photo and wall;
3. Private messaging. You will now have the ability to private message your fans. Previously all engagement on your Facebook page was through wall posts and comments. Now, just like friends on your personal page, you can message them privately; and
4. Pin posts. You will be able to "pin" selected wall posts to the top of your Wall. This means that if you have a wall post you want to highlight and keep it at the top of the page, you can now "pin" it so it always appears as the first wall post.
There are a number of other changes, but these are the main changes you need to be aware of. Even with these changes, the key to having a successful Facebook page is to attract the right people to the page and then knowing how to engage them. If you master these, no matter what Facebook throws your way, you will continue to succeed.
About Back At You
We create, manage and optimize your Facebook marketing strategy. We are experts in Facebook marketing and social media. We understand you don't have the time, resources or knowhow to efficiently build your Facebook page. At Back At You, we work to build your business a significant online presence on Facebook with the people you want. You tell us who you want and it's our job to find those people and get them to your page. We do this through the use of our own proprietary technology along with services we provide to drive targeted users and convert traffic to Like your page.
Build and grow your page the right way, with the right people. Contact us to get started today.