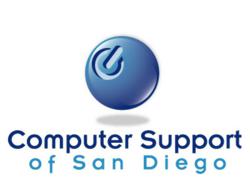 The most recognizable cost businesses face is in their network bandwidth and network security
San Diego, CA (PRWEB) July 07, 2011
Computer Support of San Diego, a leading provider of San Diego IT Services and San Diego IT Consulting announced today that it is preparing customers for the effects of Google+ as well the upcoming releases of new updates from Facebook and Skype. Business networks and overall business productivity have the potential for costing area businesses large unforeseen expenses.
The most recognizable cost businesses face is in terms of the internet bandwidth and connectivity. For small businesses in San Diego, reliable bandwidth options that are reasonably priced are still scarce in this technology dense region. With DSL and Cable Modem based services less than popular with businesses, customers often choose the traditional T1. With the limited amount of bandwidth a T1 provides it makes it highly vulnerable to being pushed to capacity. In fact just a single user can easily use the full bandwidth of a T1 just doing video activity over the internet. This creates chaos as the business tries to conduct normal business while email, remote users and VOIP all have the potential to suffer.
To help offset this risk, Computer Support of San Diego will be closely monitoring bandwidth usage and network conditions. They are also offering customers a free 60 day trial of two of the leading industries solutions for web filtering and management - Microsoft Forefront Threat Management Gateway and Websense Triton Security platform. Both solutions offer substantial monitoring and protection capabilities against internet threats as well as innapropriate usage from employees. This offer is being offered to new and existing customers alike.
The Bandwidth Challenge
Depending on network capacity, the use of bandwidth intensive applications such as streaming media or the downloading of music or videos by even a few employees can slow or shut down entire organizational networks. Websense Enterprise helps enforce internet usage policies based on bandwidth needs to prevent business losses and other issues that result from limited access to mission-critical applications.
The Employee Productivity Challenge
With unmanaged internet access, employees can be distracted by non-work related or unproductive activities. Websense Enterprise helps manage employee access to websites, minimizing lost time on the internet, and lowering operating costs.
The Legal Liability Challenge
Personal internet use can expose organizations to legal liability when employees engage in illegal or inappropriate activities. Websense Enterprise helps manage employee internet access and enforce usage policies to mitigate legal liability up front if an employee engages in improper behavior.
Organizations interested in taking advantage of this free trial should call Computer Support of San Diego at 858.384.0989 or email info(at)computersupportsandiego(dot)com
About Computer Support of San Diego
Computer Support of San Diego is a leading provider of San Diego IT Support and IT Solutions geared for small and medium businesses. By creating end to end solutions for our customers, we remove the risk and expense of the traditional piecemeal approach. Our solutions leverage cloud computing, high performance network and the latest virtualization technologies. Visit the website at http://www.computersupportsandiego.com to see how we can help technology transform your business.
For media inquiries, please contact Sarah Butterworth at 858.384.0985 or via email at sarah(at)supportsd(dot)com.
###