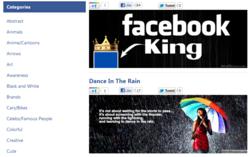 Using FB Profile Covers you can create photo collage cover for Facebook Timeline without any watermark.
(PRWEB) January 14, 2012
FBProfileCovers.com provides users with a wide choice of covers for their Facebook timeline profile. Timeline is a recent feature introduced by Facebook, where users can have customized covers to represent the home page of their Facebook profile. They are allowed to insert photos, add key events and milestones in life as well as quote favorite movies and apps as well.
Ever since this feature was introduced, there is a great demand for cover templates which users can customize and upload as their Facebook timeline covers. This is where the website FBProfileCovers.com is helping users. In the portal, covers are classified in to different categories as per the user interests. The website has listed wide range of categories from which users can select suitable covers for uploading them to their Facebook timeline profile as cover page.
As per the website sources, new designs are added on a daily basis including the ones developed internally as well as the ones shared by the users. The website acts a collaboration platform as well allowing users to create their own Facebook covers and then submit it to the portal.
The categories in FBProfileCovers.com range from Animals, Art, Awareness, Cars/Bikes, and Celebrities to Events, Flags, Movies, Music, Seasonal, Sports, User Submitted and Words/Quotes. If the user cannot find a suitable cover for their Facebook timeline profile, then they can click on to the 'Suggest Cover' tab and can type and enter the comments regarding the Facebook profile covers that they wish to get included on the website.
Website representatives also stated that they have introduced a tool, Facebook Cover Creator by which users can create stylish photo collages as their Timeline Profile Cover. They added, "unlike other tools, we do no insert watermarks in the covers and hence they completely look like users own creation.'
It is designed as a simple tool and users can create personalized covers in a few minutes. Users will have to initially select the 'Preview Personal Covers' button in order to launch the application. Then the users can log in to the app by means of Facebook. After that users will have to select their Favorite Template. Users are allowed to change profile photos in the template by clicking on the 'Shuffle Photos' tab. Users can finally click on the 'Make My Cover' tab in order to finally upload the cover to the user's Facebook account once the user ensures that they are satisfied with the cover.
As Facebook is becoming a fast growing marketing and social networking medium, the necessity of having timeline covers reflecting the personality of users is critical. FBProfileCovers.com assume significance in this context, thus helping users to create customized covers and use them to set up their Facebook timeline profiles with ease.
# # #