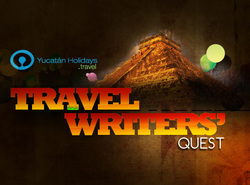 The top 10 picks will each receive a free 5-day, 4-night Cancun vacation in one of Yucatan Holidays' hotels in Cancun.
Yucatan Peninsula, Mexico (PRWEB) April 21, 2010
The online travel agency based in Cancun, Mexico—Yucatán Holidays—is searching for three talented writers out of 10 lucky winners who will be picked from thousands of submissions through their newest Facebook Fan Page contest—Yucatán Holidays Travel Writers' Quest.
In 200 to 300 words, the eager writers will describe their favorite spot in the Yucatan Peninsula, Riviera Maya or surrounding area. If the writer has not visited the Yucatan Peninsula or Riviera Maya yet, they can describe where they would like to visit.
The Facebook contest was initiated to commemorate Yucatán Holidays reaching its goal of 2,000 Facebook Fans. From thousands of fan submissions, Yucatán Holidays content editors will pick their 20 favorites. These will then be published on the company's Facebook Fan Notes Tab where Yucatán Holidays fans and writers' fans will be able to pick their favorite 10 through Facebook "Likes" and comments.
The top 10 picks will each receive a free 5-day, 4-night Cancun vacation in one of Yucatán Holidays' hotels in Cancun.
Then, from the 10 winners, the top three articles with the most "Likes" and comments will be published in the Yucatán Holidays Travel Guidebook.
The race to become the best will begin Monday, April 19 and writers will have exactly one week to submit their best article entries. Once the 20 editor's picks are published, writers will have three days to promote their submission among friends and Yucatán Holidays fans to receive the most "Likes."
Before submitting, writers must become fans of Yucatán Holidays Facebook page. Voters must be fans to vote or comment on submissions.
Writers can become familiarized with the Yucatan Peninsula and surrounding area by visiting the Yucatán Holidays official website and blog.
###