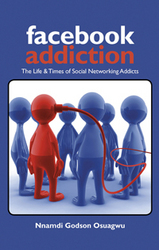 Are you a Facebook addict?
New York, NY (PRWEB) September 9, 2009
The exponential growth of social networking sites, such as Facebook, could not have been anticipated less than a decade ago. Facebook, developed by then Harvard sophomore, Mark Zuckerberg, in February 2004, and offered to fellow students by word of mouth, had approximately 1,500 registrants in it first twenty-four hours. Today it has become a cultural phenomenon on an international scale with over 200 million active users, half of which log on at least once each day. According to Osuagwu, the raw data alone raises the question to each active participant, "Are you a Facebook addict?"
The exploration of this question and all the parallelisms with chemical addictions form the basis for Osuagwu's offering of "Facebook Addiction: The Life and Times of Social Networking Addicts." The Advance Reader's Copy, available on September 9, 2009, will be released internationally to the press and bloggers with a general publication date of December 1, 2009 for the paperback edition. In addition to the Advance Reader's Copy, a free eBook titled "A Brief Guide to Social Networking Addiction" has also been made available to the public.
The book is a collaborative effort with the New York Daily News that is revelatory about the nature of everyday online social networking users. Through the interplay of actual news articles and the fictional characters, the reader will experience the light of recognition within themselves and their fellow "friends."
"Facebook Addiction" is an entertaining as well as sobering look at this latest form of communication among humanity. With more than one billion pieces of content shared on the site each week, Facebook has become the addictive destination for the expenditure of time and effort for a massive number of people. Osuagwu's latest book also offers readers the opportunity to express their personal experiences regarding their own Facebook addiction. An interactive companion site, TheFacebookAddiction.com, is available for anyone wishing to share their joys and concerns regarding the international cultural storm known as social networking.
Nnamdi Godson Osuagwu is the author of "Ice Cream Melts," a well-received book of poetry on the processes of life's high points transitioning into low points. He is also the author of "A Souvenir for My Mom: First Hand Accounts from the 2009 US Presidential Inauguration," which is a collection of interviews and firsthand accounts of the feelings and experiences of the people that attended the historic event.
Title: Facebook Addiction: The Life and Times of Social Networking Addicts
ISBN: 978-0-9797480-3-5
Advanced Reader's Copy: Available Now to Press and Bloggers
Publication Date: December 1st, 2009
Publisher: Ice Cream Melts Publishing
Book Trailer
###