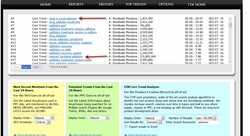 Facebook addition advice is growing so fast that it has caught the attention of doctors and family councilors.
Middleton, MA (PRWEB) February 2, 2011
Based on new findings by trends analytics company, http://www.TheInternetTimeMachine.com, search volume and worldwide conversations based around help for a "Facebook addiction" is growing faster than some offline addictions, including sex addiction. The company compares search engine queries, blog conversation, and forum posting to organic and pay-per-click results for subjects to find new trends and niches with high demand worldwide, yet low supplier or informational results.
With all the accolades that Facebook has achieved in its early life, has it finally achieved a milestone that even Mark Zuckerberg never dreamed of? Has Facebook become more addictive than sex? That is a recent conclusion based on comparing worldwide search volume and blog conversations to relevant search engine results. "The rise in interest around terms centered around 'Facebook addiction' is off the charts," says Internet Time Machine founder, Curt Dalton. "There are three very rapidly growing digital addictions that need a product or solution for those looking for it, and Facebook is growing at a faster pace than some offline addictions."
The Internet Time Machine trends software monitors search engine queries and worldwide blog and forum conversation to find new niches and trends that are starting to grow in popularity, yet don't have a sufficient number of organic or pay-per-click search engine results. "We use the economics equation of supply and demand and we apply it to the entire searchable Internet. Right now we monitor 55,000,000 sources every 24 hours," added Dalton.
"The biggest mistake that companies and individuals in Internet marketing make in trying to develop products for these addiction niches, is that they develop the product for the addict person. In reality, the search is being done by a loved one or someone who wants to help the addicted person. The product need to be designed for a loved one trying to help, not the patient," concluded Dalton.
The top 3 digital addictions as defined by growing worldwide interest and having scant information available to help the person searching? The phrases "email addiction", "Facebook addiction", and "internet addiction" all rank in near the top for growing areas of digital addiction. "The phrase 'Chinese Internet addiction' is growing too, so if you have a product or idea to help internet addiction victims, make sure you translate it to Chinese and you will own a whole niche in China," Curt Dalton says.
The idea of using supply and demand in finding new trends and niches in unique to the Internet Time Machine software. "We saw everyone just looking at demand, like search volume, when trying to find a trend or niche, and we thought supply, or relevant results for those searches was just as important in trying to figure out if a trend or niche has enough suppliers or information, to see if was saturated or not," added Ali Khan, head of IT for The Internet Time Machine project. "Search demand for solutions to "Facebook addiction" is up 1000% on the search engine NowRelevant.com. NowRelevant.com is a great new search engine since it only goes back the last 14 days and gives you a very fresh perspective on trends and niches," added Khan.
The most searched for addiction help based on offline trends continues to be around phrases using the words alcohol, drugs, oxycontin, and heroin. "Unfortunately, there are still a lot of people with serious addictions that are looking for treatment and help in the online world for offline addictions," says Dalton. "I hope one day we can see search volume for those trends go to zero."
For more trend and niche information, visit http://www.TheInternetTimeMachine.com.
# # #