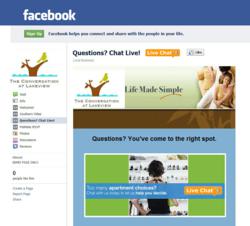 The impact that live chat has on lifting conversion rates is a critical element for success in leasing.
Atlanta, GA (Vocus/PRWEB) April 14, 2011
Contact At Once!, LLC (http://www.apartmentchat.com), the leading provider of apartment chat software that moves online lookers into live conversations with rental properties, announced today that Fetch Plus, provider of Fan Pages on Facebook, has licensed apartment chat from Contact At Once! enabling prospective renters and current tenants to browse Facebook Fan pages and connect instantly with property representatives, ask questions and gain answers. Property management companies offer live chat on their apartment websites and Facebook Fan Pages as a way to increase the number of interactions between themselves and consumers, which result in greater communication with existing residents and more opportunities for prospective renters to inquire, schedule appointments and sign new leases.
"The impact that live chat has on lifting conversion rates is a critical element for success in leasing," said Carmen Benitez, President of Fetch Plus. "By partnering with Contact At Once!, we provide our clients with customized chat features that integrate seamlessly with our FetchsFans platform. We are excited to integrate Contact At Once! chat into our Facebook solutions and allow our properties to improve lead tracking and maximize their return on investment through Facebook, the world's leading social media platform and channel most frequently visited by consumers."
Facebook Fan Pages are a social destination point where residents and apartment seekers can learn about and interact with apartment communities. Adding property chat from Contact At Once! helps to further personalize the online social experience by allowing visitors to readily engage with apartment communities. Visitors are welcomed by a chat greeting letting them know that someone is online and available to answer their questions. When an online visitor clicks on a chat button, a window opens to display the actual name and photo of the property agent who has chosen to respond.
"We are honored to be chosen as the exclusive chat provider by social media pioneer, Fetch Plus and are excited for the opportunity to work hand-in-hand in helping properties increase communication with consumers and lease more units," said Ed Javier, VP of Sales, Real Estate Solutions for Contact At Once!.
About Contact At Once!
Contact At Once! is the leading provider of live chat for apartments and operator of the industry's only chat network, connecting property managers to the websites renters frequent while searching for a home including Apartments.com and ApartmentFinder.com. Adding ContactAtOnce! apartment chat to a website typically increases the number of interactions between online prospects and property personnel by at least 25%. Contact At Once! is headquartered in Atlanta, Georgia. For more information, please visit: http://www.apartmentchat.com.
About Fetch Plus.
Fetch Plus Asia Pacific Pte. Ltd. is a preeminent social media and mobile application development company that specializes in developing social and mobile applications for the real estate, hospitality, multifamily housing and franchise sectors. Founded by Ms. Carmen Benitez, the company is on the forefront of designing and commercializing social media and mobile applications. The company recently launched FetchFans, its social media design application at DEMO, the leading global launch pad for the most innovative emerging technology. The company has been featured in The New York Times, VentureBeat, Bloomberg BusinessWeek, The Business Times, The Chicago Tribune, Multi-Housing News Infocomm News Singapore and TechCrunch, which named it one of seven social media start-up companies to watch in 2011.
# # #