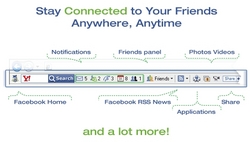 Montreal, QC (PRWEB) December 19, 2007
Visicom Media today released My FB Toolbar, a must-have application built on Facebook Platform that allows users to stay connected to their friends. With this toolbar, users get instant access to essential Facebook bookmarks anytime, anywhere, while surfing the Web with their browsers.
"Facebook users finally have at their disposal a powerful and reliable toolbar for Internet Explorer. We thought users needed an advanced browser application that would enhance the overall Facebook experience. To ensure higher quality and greater user appreciation, My FB Toolbar is powered by Dynamic Toolbar, our cutting-edge toolbar development platform that has been at the forefront of toolbar technology for the last six years," explained Patrice Carrenard, CEO of Visicom Media.
My FB Toolbar can keep users logged into Facebook. At any time, they are just one click away from their Facebook friends, profiles, notifications, events, photos, and videos. With toolbar alerts, users receive instant notifications whenever a new event is triggered on their Facebook account, such as new mail, a new event, or a new invitation. It's easier for users to keep in contact with their friends with the convenient Friend and Status News Feeds panels.
With My FB Toolbar's search box, users can search Facebook to find friends, groups, events, and more. Additionally, the toolbar provides key access to Facebook photos, groups, events, friends, and Facebook applications. Users can also search the Web at any time with a powerful Web search powered by the Yahoo search engine. My FB Toolbar offers the following features:

Facebook Search: Search for friends, groups, and events on Facebook
Web Search: Search the Web with Yahoo Search
Alerts: Be notified of any new Facebook requests, such as new friend, group, and event invitations
Quick Links to Facebook: Get instant access to key features of Facebook
Friends: Check out friends' pictures and statuses
Photos: Get instant access to friends' photos on Facebook
Videos: Get instant access to friends' videos on Facebook
News Feed: Keep track of friends' status updates and Facebook notifications
My FB Toolbar is available from the Facebook application directory or from VMN.net at this address: http://myfbtoolbar.vmn.net
About Visicom Media:
Visicom Media Inc. (Visicom Media) is a leader in the development of innovative, quality tools for the Internet. Visicom Media strives to find creative solutions to help its customers take advantage of the newest technologies with maximum efficiency.
About Dynamic Toolbar:
Dynamic Toolbar (Dynamic Toolbar) is a leading-edge toolbar platform for Web leaders of today and tomorrow. As the clear path to a successful toolbar deployment, Dynamic Toolbar provides our partners a unique way to enhance user loyalty and promote repeat usage while opening several additional revenue opportunities. Web leaders such Yahoo!, Comcast, NASDAQ, Megaupload, Oracle, Verizon, MapQuest, T-Online, and Disney have deployed their toolbars successfully with Dynamic Toolbar.
About VMN.net:
VMN.net (VMN.net) provides users around the world with creative online products and services to make life on the Web more fun and enjoyable.
Facebook® is a registered trademark of Facebook Inc.
###