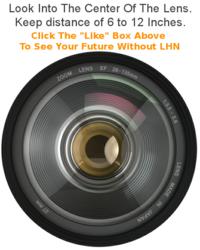 what was once a dream, or even a far-fetched nightmare, often becomes reality. So the thought of a company engineering a method of using an ordinary computer display as a two way camera plays to a level of curiosity that has developed in people over time
Tampa, FL (PRWEB) November 11, 2011
History demonstrates that what was once a dream, or even a far-fetched nightmare, often becomes reality. So the thought of a company engineering a method of using an ordinary computer display as a two way camera plays to a level of curiosity that has developed in people over time.
Liberty Health Network is playing off of that curiosity with their new social tool, Fan Offer from North Social.
Upon visiting LHN's Facebook page, users who select the "Fan Offer" are met with an image of a video camera lense. The image instructs users to look into the lense and "Like" the company. After clicking the "Like" button, the program goes to work, calculating a supposed future representation of what the lense sees today, and what the and what the future might hold without LHN's Nutritional Supplements.
And although most users recognize the inability of two-way video with a standard video display, LHN is betting curiosity will get the better of most.
Russell Bly, Chief Operating Officer with LHN explains: "I have to admit, a friend in Chicago sent me an e-mail with something very similar years ago. But without Facebook, and without Facebook applications, the ability to go viral was limited and complex." Bly went on to say "Sometimes, marketing can be tedious. Customers may even get bored. We just wanted to put a little fun into customer acquisition. And if we build our brand along the way with a creative use of off-the-shelf technologies, well that's just a bonus!"
So, LHN may not be able take a picture of viewers today. Or, can they? Whether LHN can or cannot, the visitor will just have to be the judge. No matter what, users will end up having to "Like" LHN to see exactly what is waiting on the other side of the lense.
About Liberty Health Network, LLC.
Liberty Health Network is one of the nation's leading Direct and Internet Marketing companies with a state-of-the-art Global Distribution facility in Tampa Bay, Fl. For 12 Years, the Liberty Health Network name has been synonymous with high quality Mortechem-Free Nutritional Supplements, Skin Care and Web Applications.
Liberty Health Network distributes products and services Internationally. Businesses or Individuals interested in distributing Liberty Products or requiring more information should contact Chief Operating Officer Russell Bly at (813) 774-8191. The statements made on this website have not been evaluated by the Food & Drug Administration. These products are not intended to diagnose, prevent, treat, or cure any disease.
###