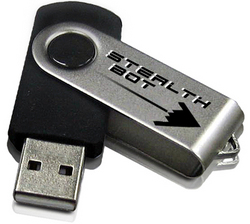 When people purchase our covert surveillance products
New York, NY (Vocus) February 10, 2010
After witnessing an annual spike in sales in the weeks leading up to Valentine's Day, accompanied by an influx of calls from customers concerned about Facebook cheating, BrickHouse Security decided to reach out to relationship experts for their advice on Facebook cheating--and provide the tools to combat it.
While Valentine's Day is a holiday to proclaim one's affections, it's also a time when couples question whether their mate is staying faithful. BrickHouse Security has found that in their quest for answers, its customers often turn to the new Stealth iBot computer monitoring tool, a device that logs all computer information without detection. Hearing from its customers that they're buying the product to safeguard against Facebook cheating, or "social cheatworking," the company asked leading relationship experts how Facebook might be fueling their concerns.
Dr. Lisa Boesky, a clinical psychologist and author specializing in the subject of social cheatworking, was among the six experts interviewed by BrickHouse Security. Said Dr. Boesky, "I think Facebook gives people who would cheat or who might be on the fence about cheating more opportunities for cheating; it's an avenue to meet more people. Facebook, Twitter and other social networks are aiding people who would have that inclination, and they're making it easier for them." Her perspective is supported by a December 2009 study reported by The Telegraph and ABC News that found 20% of all divorce filings cited Facebook-based cheating among the grounds for the separation.
According to BrickHouse Security CEO Todd Morris, customers aren't necessarily looking to catch someone in the act; rather, they're often simply looking to gain peace of mind. "When people purchase our covert surveillance products," said Mr. Morris, "they're after the truth. Whether they find evidence of infidelity or that their suspicions are unfounded, our products provide the information they want about their relationship."
Dr. Boesky shares this perspective: "If there is something going on with your spouse, then you need to know. These tools give you knowledge. And you need that knowledge to make an informed decision."
BrickHouse Security, a company that specializes in safety and security devices for families and law enforcement, has seen a 242% rise in sales of digital surveillance products in the 30 days leading up to Valentine's Day as compared to last year. Among these products is the best-selling Stealth iBot computer monitoring tool, a product used for tracking computer activity, including all Facebook interactions. Said Mr. Morris, "We're pleased to aid so many people with our products. At the same time, we encourage our customers to show good judgment and to use them responsibly."
Valentine's Day is a special day for many, and hopefully tools like the Stealth iBot aren't necessary. But when a relationship comes into question, it is only natural to want answers. BrickHouse Security is ready with its high-tech tools to give customers the knowledge and peace of mind they're looking for.
For a summary of the company's interviews and information on the subject, please visit the BrickHouse Security Blog.
About BrickHouse Security:
BrickHouse Security provides security and surveillance products to consumers, businesses of all sizes including roughly half of the Fortune 500, and more than 500 local and national government agencies such as the NYPD, LA County Sheriffs, and the FBI. The company and its products have recently appeared on the CBS Early Show, NBC's Today Show, ABC's Good Morning America, Fox News, and the Associated Press. Serving as the most trusted authority on security products, BrickHouse Security offers a wide range of leading-edge safety, protection, and counter-surveillance products to help its customers protect what they care about most. The company is headquartered in New York City and serves a diverse US and international client base.
###