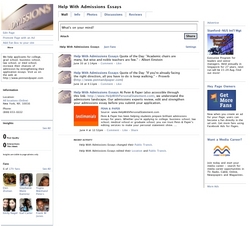 We figure all our admissions essay clients have a Facebook profile, so we're letting them fan us and send us messages
Los Angeles, CA (Vocus) July 14, 2009
These days, Facebook can be the best business card for current and former students. Not only can students connect with members of their alma mater on Facebook, they can find new friends--and better still, new services (such as admissions firms and personal statement services) on Facebook. For this reason, the admissions essay editing service, Penn & Paper, has decided to increase its social media presence, starting with Facebook, and expanding to hundreds of other social media platforms across the web.
"We figure all our admissions essay clients have a Facebook profile, so we're letting them fan us and send us messages," explained one of the application essay consultants at Penn & Paper. But, it's not just the joining of Facebook that's exciting for the admissions essay firm, it's the fact that Facebook allows the college application essay company to brand itself with a URL that every visitor can remember: Facebook.com/CollegeAdmission.
Along with offering personal statement help to fans of its new Facebook page, Penn and Paper provides admissions counseling to several clients who are applying to college for the first time, or those returning to graduate school in the struggling economy.
Penn & Paper's college admission experience spans several years, and their graduate admission expertise covers various professional fields from law to business to the medical field. Admissions consultants at Penn & Paper tend to offer a personalized and focused service to new and existing clients, because they say that no two clients, and no two admissions essays are the same.
About Penn & Paper
Penn & Paper (PennandPaper.com) is an admissions essay editing service that provides individualized counseling to applicants of all levels. Penn & Paper has helped several applicants seeking admission into competitive academic programs. The company's admissions consulting services strengthen an applicant's chances of getting admitted to college, business school, graduate school, law school, medical school and various fellowships/scholarships. For more information, please visit the company website at http://www.pennandpaper.com, or call (888) 653-0222.
###