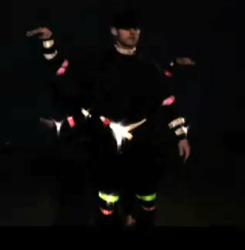 Win a $150 Vedante Gift Certificate
Boulder, Colorado (PRWEB) December 02, 2011
Vedante™ is running a contest from December 2, 2011 through Dec 17 2011. The winner will receive a $150.00 Gift certificate to be used on anything their heart desires at Vedante's e-commerce store.
To enter, go to Vedante's Facebook Fanpage, enter the contest, and then describe a fun and creative use of Vedante's popular POP BANDS™ or Pet Products on Vedante's Fanpage wall. Ask friends to vote for the best idea by clicking "like" under the entry on Vedante's Fanpage. The top 5 entries (based on Fan votes) will be judged by a team of experts and 1 person will be awarded $150.00 of Vedante products.
Barbara Kantor, CEO of Vedante, states, "We are looking for fun and trendy uses of our Super Reflective products that will allow people and pets to be fashionably visible at night. The idea does not have to be traditional. You can place a dog collar on a person at an outdoor sporting event. We will be selecting the most creative and functional idea for outdoor use."
To stir up creative juices, play the video on the right side and see how people are already using Vedante's fun and fashionable POP BANDS.
If not visible click link: http://www.youtube.com/watch?v=p5fH9WYWEtY&feature=player_embedded)
Products and Pricing:

People Products – Vedante's reflective Pop Bands™ are made with 3M's Scotchlite. These fashionable and colorful bands are popular due to their highly effective and reflective design. These stylish items go on like snap bands. Versatile and fashionable, they are easy to carry anywhere at any time. Available in yellow or white (reflective up to 1,500 feet), tangerine (reflects up to 1000 feet) as well pink, red, blue and green (reflective up to 500 feet). Pop Bands can be seen in the face of auto headlights at a much greater distance than the majority of their competitors. Medium is the standard size with large available for larger people or for fitting over jackets and bulky clothing. They are available in two sizes: medium and large. Retail price is $12.98 - $13.98 for a package of two.
Pet products – Collars and Leashes are reflective up to 1500 feet whereas the majority of products currently on the market are reflective from 200-600 feet. Quality materials and manufacturing give Vedante's pet products a competitive edge over anything on the market in both reflectivity and durability. The reflective dog and cat collars come with a bonus glow in the dark tag for added visibility when pets are in the yard or a dark hallway. An Amazon reviewer states that "I no longer trip on my cat in the middle of the night". Pricing for pet products ranges from $11.98 - $45.98
Contest details and rules can be viewed on Vedante's Facebook Fanpage.
About Vedante:
CEO Barbara Kantor founded Vedante in 2006. Barbara's inspiration came during an evening walk when she witnessed a pedestrian being struck by a car. The pedestrian, in a cross walk, was unaware of the driver's inability to see her. Deeply impacted by what she saw, Barbara delved into research on safety and visibility and then studied reflective products that were currently on the market. Barbara's research and her 25 year background in fashion design led to her development of Vedante reflective safety products that are attractive and easy to use.
Vedante is a company committed to saving lives by increasing nighttime visibility and decreasing accidents through education, awareness campaigns, and "fashion that reflects well on you."
Vedante has consistently ranked among the top 10 best sellers in the United States at Amazon.com in its respective categories for super-reflective POP BANDS and pet accessories.
To locate a local retailer visit http://www.vedante.com.
For safety tips, deal alerts and fun stories follow Vedante on:
Facebook: http://www.facebook.com/Vedante
Twitter: http://twitter.com/VedanteFDN
###