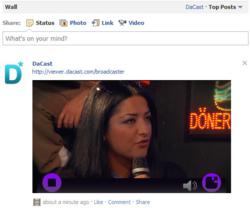 For the first time, more than 500 million active Facebook users can broadcast live video in only a few minutes.
San Francisco, CA (PRWEB) April 19, 2011
DaCast, the first fully integrated, self-service platform for live streaming, today announced support for its services through Facebook®, bringing live video and audio to the world's most popular social platform.
"We're very pleased to be able to offer easy to use live video streaming over Facebook," said Stephane Roulland, CEO of DaCast. "For the first time, more than 500 million active Facebook users can broadcast live video in only a few minutes. It's a huge step forward in the world of communications."
The new functionality allows anyone to easily add live streams to their Facebook by simply sharing their channel URL through a wall post. No additional download or plugins are needed and streaming over Facebook can be done instantly without additional signup. Friends and other visitors can not only watch the stream, but also click a share link to spread the content to others.
This integration provides a powerful new capability for everyone on the social network, and enables additional ways to interact with friends and followers. Using a simple webcam, Facebook users can now post personalized, live video messages for friends to their profile.
This new capability also presents an innovative way for music groups and other organizations to stream their events and concerts live, directly from their Facebook page to fans. TV channels can broadcast 24/7 from within their own Facebook profiles as well. Houses of worship can share services live with their communities. Event organizers now have a platform for broadcasting live meetings and conferences with direct contact to their audiences. The benefits of live streaming can help many other groups including, but not limited to, education, politics, sports, and radio.
DaCast integration through Facebook is available now and users can start to immediately share live streams with others on the social network.
About DaCast
DaCast is headquartered in San Francisco, California with a European office in Paris, France. The management and technical teams have extensive streaming experience, and specialize in delivering an easy to use monetization platform for live streaming. For additional information, please visit http://www.dacast.com.
###