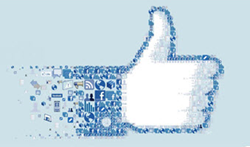 Facebook is clearly the hottest topic in dental marketing today.
Los Angeles, CA (PRWEB) February 25, 2014
Futuredontics, the nation's leading provider of dental marketing services and parent company of 1-800-DENTIST®, is offering a live encore presentation of Fred Joyal's popular Webinar, "Facebook Rules of Thumb." This special return engagement will explore how dental professionals can best use Facebook to grow their practices and generate new production.
The hour-long live online course will be held on Wednesday, March 5, beginning at 11am PST/2pm EST, and is open to all dentists and office staff. During the Webinar, Joyal will share proven strategies for acquiring and retaining patients via Facebook, optimizing practice business pages for maximum effectiveness, tips for leveraging patient reviews and more. The presentation will close with a question and answer session.
"Facebook is clearly the hottest topic in dental marketing today," explained Joyal. "While the majority of dental practices recognize the value of adding it to their practice marketing, few are using Facebook to its full potential. My Webinar will show dentists a step-by-step strategy for increasing their patient base on Facebook."
Fred Joyal is best known for founding Futuredontics, the parent company of 1-800-DENTIST. He is also the author of the bestselling book "Everything is Marketing: The Ultimate Strategy for Dental Practice Growth." Now in its 5th edition, Joyal's book has just been updated to address the new challenges faced by dental practitioners in 2014.
In addition, Joyal is recognized for his dental marketing blog, GoAskFred.com. The popular website was lauded as one of the "Best Dental Blogs 2013" by valuepenguin.com – this award comes on the heels of Joyal being named one of the "Top 10 Dental Pros in Social Media" by Patterson Dental in 2012.
Dentists and staff can reserve their spot for "Facebook Rules of Thumb" by registering for free at http://www.futuredontics.com/FacebookRules.
About Futuredontics®
Futuredontics®, parent company of 1-800-DENTIST®, is America's leading provider of dental marketing services & software. Since 1986, the company has been dedicated exclusively to dentistry, developing powerful products and resources that help dentists thrive in the evolving digital world.
The company's flagship product, 1-800-DENTIST, has delivered over 7 million new patient leads to dental practices nationwide. PatientActivator®, their patient communications and online marketing solution, increases production and boosts the practice's online presence with automated appointment confirmations and tools for social media, reviews and much more. ReputationMonitor® helps dentists protect their online reputation – monitoring hundreds of directories, reviews sites and social media platforms, and displaying them all on a single screen. WebDirector® delivers dynamic websites, mobile sites and branded social pages all for one low price. And ReActivation Pro® gets dormant patients back on the practice's schedule. Futuredontics also offers an extensive library of dental marketing resources – including in-depth whitepapers, Webinars and front desk training. With unlimited live customer support, dentistry's best marketing products and the largest dental website in North America, Futuredontics is the proven way for dental practices to grow their patient base and increase production year after year.
Contact: Betsy Roddy, Futuredontics, 310-215-6535