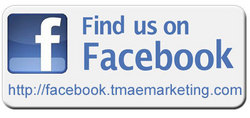 Having a customized, professionally designed Facebook fan page can place your brand ahead of the competition with its unique cutting-edge marketing capabilities. We strongly believe this is the direction advertising is heading and are proud and excited to be one of the first companies to offer this level of branding and exposure within Facebook
Minneapolis, MN (PRWEB) August 26, 2009
TMA E-Marketing, a Minneapolis-based Internet marketing company, today announces it will be offering professional Facebook fan page design for businesses interested in extending their brand and interacting with their target audience through the social media channel. The new fan page development offers businesses a competitive edge in social media with its innovative marketing capabilities.
"Social media provides a unique opportunity for businesses to communicate and interact directly with their target audience," states Christian Del Monte, Executive Vice President of TMA E-Marketing. "Having a customized, professionally designed Facebook fan page can place your brand ahead of the competition with its unique cutting-edge marketing capabilities. We strongly believe this is the direction advertising is heading and are proud and excited to be one of the first companies to offer this level of branding and exposure within Facebook," Del Monte concludes.
Up until now, companies wishing to promote their businesses and products on Facebook have had to rely heavily on its platform and work within its limitations. TMA E-Marketing's new Facebook design services allow greater freedom in the design, layout and branding of a company's fan page. By completely submerging a company's target audience in a professionally design, custom branded Facebook fan page, TMA E-Marketing provides companies with unique and innovative marketing opportunity.
TMA E-Marketing adds Facebook fan page design to an existing portfolio of Internet marketing services that include Website design, search engine marketing, social media marketing, audio/video production, email marketing and online public relations. TMA E-Marketing is one of the largest privately held Internet marketing agencies in the United States. For more information on TMA E-Marketing or any of its Internet marketing services, visit http://www.tmaemarketing.com or call 1-866-840-3062.
###