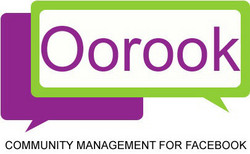 Oorook helped us to reduce the time spent moderating a client's Facebook page by over 50%, which consequently enabled us to focus on community management and boosting fan activity and engagement rates.
Paris (PRWEB) November 8, 2010
Manually monitoring Facebook fan pages for web spamming, traffic diversion and vulgar language is time consuming, tedious and inefficient. But until now, companies and marketing agencies without a big budget for conventional Facebook Management platforms didn't have any other option to protect their brands and maintain positive communities. Scan & Target, a leading SaaS provider of real time web and mobile text content analysis and filtering, today announced the availability of Oorook, the first free moderation application for Facebook fan pages.
Facebook fan page administrators who are interested in Oorook can download and install the free application in only 30 seconds at http://apps.facebook.com/scanandtarget/.
Although several brands have already created successful Facebook fan pages and attracted many fans, they are constantly challenged to keep fans, increase their engagement rate and ultimately protect brand integrity. The fan experience depends mainly on the quality of page content. Web spam and profanity deter fans from engaging with a brand, while each negative comment is shared with an average of 130 friends.
As the first fully-functional, free downloadable Facebook fan page moderation application, Oorook makes it easy for all community managers to automatically protect fan pages — and brands — against web spamming, traffic diversion, and obscene or offensive language. Oorook analyzes all fan posts and comments in real time. If bad or litigious content is detected, page administrators receive an instant e-mail notification and can immediately review and remove or accept the content from a moderation console integrated within Facebook.
By easing moderation and improving overall page quality, Oorook makes it free, easy and efficient for Facebook community managers to:

Automatically protect brands and audiences from profane language, negative content, web spam and traffic diversion
Spend more time creatively engaging the audience
Improve the quality of the Facebook content representing the brand
Increase community growth and interaction
"Oorook helped us to reduce the time spent moderating a client's Facebook page by over 50%, which consequently enabled us to focus on community management and boosting fan activity and engagement rates," said Eric Leal, Managing Director of Atchik-Services, a leading moderation and conversational marketing company.
Unlike primitive keyword- or semantic-based Facebook applications, Oorook is powered by Scan & Target's Text Meaning technology for faster, more precise detection of all negative and spam content. Oorook recognizes all natural languages used in digital media and considers different alterations and variants of expressions (e.g., small or capital letters, letter repetition or missing letters, orthographical variations, or non-alpha symbols) to analyze the content.
"People have been asking why we would offer a free version of our anti-spam and moderation application," said Bastien Hillen, CEO of Scan & Target. "The primary reason is that we believe in good quality content and loathe spam and traffic diversion. For both brands and consumers, Facebook fan pages are at the heart of social marketing today. We are excited to empower marketing professionals and agencies with automatic protection against bad content and spam, so they can focus on strategic fan engagement. In addition, it allows marketers to test our standard services with the option to upgrade to Oorook Business or Oorook Premium at any time."
For more advanced moderation capabilities, such as the automatic deletion of bad content, instant notification of new Fan questions, custom filtering and the ability to reply to fans directly from the moderation console, marketers can check out more details about Oorook Business and Oorook Premium subscriptions.
Links for more information:
Oorook Free Download
Oorook on Facebook
Scan & Target Text Meaning technology
About Scan & Target
Scan & Target provides real-time web and mobile text content analysis for leading government agencies, service publishers, marketing agencies, e-commerce sites and media & advertising networks. The company's unique Text Meaning technology understands the meaning behind text, offering customers the relevant information they need to moderate, monetize, or gather intelligence from digital text communications, including SMS, e-mails, forums, chat, blogs, tweets, Facebook comments. Founded in 2007, Scan & Target is based in Paris, France. Please visit http://www.scanandtarget.com for more information.