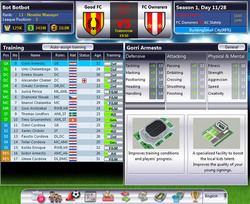 We are excited to deliver new features that touch our core audience of over 1 million players and look forward to attract the hundreds of millions of soccer fans and casual gamers using facebook
Palo Alto, CA (PRWEB) January 3, 2011
Nordeus LLC celebrates the New Year by adding more exciting new features for its massive hit on Facebook - "Top Eleven Football Manager" game title.
Shortly after announcing last month about reaching over 1,000,000 Monthly Active Users with its Facebook Game Top Eleven Football Manager to become the largest online football manager in the world in just 6 months, Nordeus LLC announces a new and exciting set of features for its players.
The new features will be presented in stages, the first feature introduced a week ago is the players' boosters:
Top Eleven Football Manager game now offers three types of boosters; Healing treatments, Rests and Morale boosters. Any player can use them to improve his players' health, physical and mental condition. The boosters are generated by ground units players have built.
Other exciting new features will be coming out soon and users surely have a lot to expect to.
Currently, the title has upwards of 1,200,000 monthly active users and an excellent player loyalty rate of over 250,000 daily active users.
Nordeus growth is intense and stable and there are over 10,000 new players joining the game on a constant daily basis. Due to the massive growth in traffic the company has experienced, Nordeus grows accordingly and is in the process of recruiting new brilliant engineers to its already established team of top quality and carefully selected software engineers.
"We are excited to deliver new features that touch our core audience of over 1 million players and look forward to attract the hundreds of millions of soccer fans and casual gamers using facebook," said Shay Hugi, Co-Owner of Nordeus LLC.
About Top Eleven Football Manager:
Top Eleven Football Manager game for Facebook launched on April 2010 and already considered to be the largest online football manager game in the world! Counting over 1,200,000 monthly active users and growing rapidly.
About Nordeus:
Top Eleven Football manager was developed by Nordeus, an expanding venture-startup company.
Nordeus Interactive was founded in April 2009 by a group of former Microsoft engineers striving to leverage the desktop gaming experience to the web.
http://www.facebook.com/topelevengame - Top Eleven Football Manager Game
http://www.topelevengame.com/ - Top Eleven Football Manager Official website
http://twitter.com/TopElevenFM - Top Eleven Football Manager Twitter
http://www.youtube.com/user/topelevenfm - Top Eleven Football Manager Youtube Channel
# # #