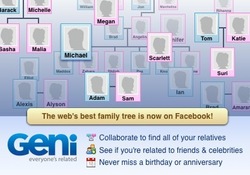 What sets the Geni application apart from the other family apps is that it allows users to do more than build a family list, something Facebook has already made a native feature with its family group
Los Angeles, CA (PRWEB) April 15, 2009
Leading family networking site Geni.com announced today the release of the Geni Facebook Application. Facebook users can now access the most popular Geni features within Facebook including building a collaborative family tree, getting family news and birthday reminders, and setting up a family profile.
The Geni Facebook Application uses the same database as the Geni website, so relatives already using Geni.com can interact with Facebook users and vice versa. The application provides a place to share family news and information without exposing it to the rest of your Facebook friends.
"What sets the Geni application apart from the other family apps is that it allows users to do more than build a family list, something Facebook has already made a native feature with its family group," said Geni CEO David Sacks. "Facebook users can now find their connection to the world's largest family tree without ever leaving Facebook."
Over 650,000 users have already joined Geni's largest family tree, which has over 12 million connected profiles. Facebook users can now join this tree to find new cousins and even discover which friends are their distant relatives.
Geni users can add pictures of their family to their Facebook profile; this is a great way for proud parents and grandparents to show off their kids and grandkids. Users can also choose to share their interactive family tree with their close friends.
The Geni Facebook Application is available today: Geni Facebook Application
###