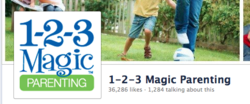 We are thrilled to have so many parents connecting to 1-2-3 Magic through Facebook and Twitter. - Dr. Thomas Phelan
Chicago, IL (PRWEB) June 28, 2013
ParentMagic Inc, creator of the best selling 1-2-3 Magic Parenting program, is pleased to announce that the 1-2-3 Magic Facebook page has crossed 35,000 likes in June 2013. This represents a key part of ParentMagic's business model, direct communication with parents.
Creator of the the 1-2-3 Magic Parenting program, Dr. Thomas Phelan said, "We are thrilled to have so many parents connecting to 1-2-3 Magic through Facebook and Twitter. It is our hope that we can be partners in helping parents raise happy, healthy and competent kids."
Over the last two years Parent Magic has focused on reaching parents who are using the 123 Magic or are thinking about it directly. Through frequent updates, reminders and tips parents who are interested in learning about healthy discipline in the home will find connecting to the 1-2-3 Magic community on Facebook a great resource.
ParentMagic also frequently runs specials and giveaways which are announced via the Facebook page. In June a $300 gift card to Target was given away and attracted over 7,000 entries. Popular post on the Facebook page have garnered over 180 shares and over 1,000 likes.
A recent post reads: "Research has shown that effective parents are warm and friendly on the one hand, but also demanding and firm on the other. Both orientations are critical to raising emotionally intelligent and mature kids."
For more information or to like 1-2-3 Magic Parenting on Facebook visit the Facebook page. To learn more about the program or order from Parent Magic visit http://www.123magic.com.
About ParentMagic Inc. and Dr. Thomas Phelan
1-2-3 Magic is America's #1 child discipline program. Now in its 4th edition, 1-2-3 Magic has helped millions of families stop unwanted behaviors and create competent healthy children. Dr. Thomas Phelan is a registered clinical psychologist in the Chicago suburbs. He has also served on the board of directors for both ADDA and CHADD, two national organizations for the parents of children with ADD. Dr. Phelan was inducted into the CHADD Hall of Fame in 1997.