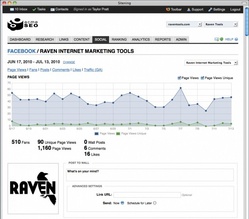 A Facebook tool has been our most requested feature this year as more and more businesses continue to invest in Facebook marketing
Nashville, TN (Vocus) July 23, 2010
Raven Internet Marketing Tools, one of the leading in-house and agency Internet marketing toolset providers, announces the release of a new Facebook Tool for Facebook Fan Pages.
The Facebook tool is designed to allow users to manage multiple Fan Pages, get a better understanding of the performance of the Fan Page, improve efficiency in engaging with fans and instantly generate custom, branded campaign reports.
"A Facebook tool has been our most requested feature this year as more and more businesses continue to invest in Facebook marketing," said Taylor Pratt, Product Marketing Manager for Raven. "This is the first tool of its kind that combines Facebook Insights with Google Analytics, allows users to schedule updates and report on the data."
With the ability to schedule wall posts, users are able to better organize updates for their fans and ensure that updates are posted during the time of day when their fans are most active. Additionally, users are able to respond to comments, post links and post pictures directly to their Fan Page wall from within Raven.
With the integration of Google Analytics, not only are users able to monitor their Facebook Insights from within Raven Tools, but they can also monitor their visits from their Fan Page to their own website. Additionally, users can also create custom, branded reports of their Facebook Insights and have them automatically emailed out to clients or team members.
About Raven Internet Marketing Tools
Raven Internet Marketing Tools is used by thousands of marketers around the world to efficiently manage search engine optimization and social media conversations. With Raven you can conduct research and analysis, manage link building campaigns, track search engine trends, instantly produce sophisticated campaign reports for SEO and SMM campaigns, and collaborate with team members using intuitive multi-user features. Learn more at http://raventools.com.
# # #