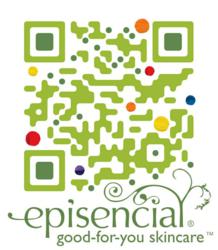 Episencial simplifies healthy choices so moms can make the most of their time and money.
Los Angeles, CA (PRWEB) May 27, 2011
Today, moms on Facebook can conveniently shop for better products at better prices as Episencial, the first skincare company to create authentically green and all natural products for the health of babies, kids and the planet, launches its Facebook store at: http://on.fb.me/shopepi.
The Facebook Storefront makes the entire Episencial newborn safe skincare line available to fans and their friends, along with frequent deals, discounts and exclusive value sets. Episencial is celebrating its Facebook store's grand opening with discounts on all products and sets – including $5 off Sunny Sunscreen SPF 35 – awarded a top-rating for safety and effectiveness by the Environmental Working Group, and $10 off exclusive value sets.
"Episencial simplifies healthy choices so moms can make the most of their time and money. Having a Facebook store extends that concept to help ensure moms have convenient access to our products," said Kim Walls, M.S. and CEO of Episencial. "The daily interaction we have with our growing fan base is incredible; sharing, learning and supporting each other in a way that fits so nicely with who we are as a company."
With fanciful packaging featuring the beloved artwork from Eric Carle's "The Very Hungry Caterpillar," Episencial offers the first and only professional-quality, all natural and complete skincare system designed specifically to support the developing skin type of babies and kids at prices ranging from $5 - $15:
Step 1. Bathe: Gently cleanse and hydrate for fresh, healthy skin.
Playful Foaming Wash, Sweet Dreams Bubble Bath
Step 2. Nurture: Soothe, heal, moisturize and massage to build immunity and enhance bonding.
Soothing Cream, Better Body Butter
Step 3. Protect: Prevent and treat to balance and care for tender skin.
Nurturing Balm, Sunny Sunscreen SPF 35, and Protective Face Balm.
By virtue of all natural formulas - Episencial products reduce exposure to unnecessary and potentially harmful chemicals so prevalent in skincare products; even those marketed for babies and children. Doctors and medical professionals throughout North America use Episencial's skincare products in their hospitals.
About Episencial skincare
A lifetime of healthy skin and choices is possible with Episencial skincare with better products, better prices.
Episencial's all natural formulas feature an exclusive skin immune complex to specifically care for the developing skin type of babies and kids, ages 0 - 5. Understanding the critical function skin plays in the immune system, Episencial uses advanced skincare technology to formulate its products to first lay the basis for maintaining healthy skin. The professional grade skincare formulas are then infused with exclusive blends of natural ingredients known to protect, support and boost skin immunity and therefore, overall health. Episencial is leading the chemical-free charge in personal care products for kids with affordable pricing to support today's actively healthy families with green values.
Sharing these fun and inviting products - and the care and consideration that goes into making them - with children can serve as a building block for making actively healthy choices for themselves and the planet. Episencial was founded by Kim Walls, M.S., a second-generation skincare expert from the Epicuren family, who couldn't find skincare products for her babies that met her professional standards for quality and care for the environment - so, she created her own with the help of several moms and dads. Episencial products are free from the bad stuff and loaded with good stuff to soothe and protect. The entire Episencial skincare system is safe for newborns and good for the planet.
Moving beyond the "greenwashed" approach typical of natural products, Episencial manufactures in the U.S. using solar power and recycled and sustainable packaging. Episencial products are available nationwide. To find a retailer near you, please visit http://www.episencial.com.
Got a question? Ask us at http://www.facebook.com/episencial and follow us @Episencial for deals and updates. Sales of Episencial products benefit the company's philanthropic partner Healthy Child Healthy World and its mission to protect children from harmful chemicals.
###