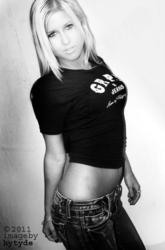 I love, love, love the pocket detail—it's not overdone or in-your-face like you see on other brands.
San Francisco, CA (PRWEB) February 11, 2012
There is a whole lot to like about Grp.E Jeans' line of premium party jeans. San Francisco fashion designer Tommy Pham's line of designer jeans—available in a range of fits from ultra-skinny jeggings to relaxed—is emerging as the choice for comfortable, functional, superbly crafted and stylish premium jeans. Grp.E is rewarding new fans by giving away jeans to a man and woman who like Grp.E on Facebook (http://www.facebook.com/GrpEs?sk=app_197602066931325).
In addition to the Facebook giveaway, the San Francisco jeans company is giving partygoers even more reason to celebrate. Through February 15, Grp.E Jeans is offering 40% off jeans purchased at their online store and Bay Area stores that carry the Grp.E Jeans line.
Pham created Grp.E premium jeans with an emphasis on fit, finish, functionality and details. "There are so many features men and women love about Grp.E jeans, but what really closes the deal is Pham's patented snap-button fly," said Mignon Gould, founder of popular fashion blog The Chic Spy. "Like Levi's original button fly jeans, this unique snap-button fly is Grp.E's pièce de résistance."
Unlike button fly jeans, the "quicky" fly gets Grp.E jeans off fast. And unlike zippers, there is no risk of skin or fabric damage. No other denim brand in the world has a concave button. This ergonomic design allows fingers to fit right into the recess for a more natural and customized feel.
"I personally love the fit of the skinny jeans and that they come in a variety of fits for different body types," said Irene Hernandez-Feiks, owner of Wonderland SF, a San Francisco clothing boutique that carries Grp.E Jeans. "I also love, love, love the pocket detail—it's not overdone or in-your-face like you see on other brands."
Grp.E jeans are sold at the following San Francisco Bay Area locations:
Wonderland SF (wonderlandsf.com) 415.641.4600
2929 24th Street (between Alabama and Florida) in San Francisco
Underground (undergroundsj.com) 408.298.4286
1342 Lincoln Avenue in Willow Glen / San Jose
Kiss'tique, Los Gatos (kisstique.com) 408.399.5477
11 North Santa Cruz Avenue in Los Gatos
Simply Smashing, Campbell (simplysmashingstyle.com) 408.379.1925
241-B East Campbell Avenue in Campbell
For more information about Grp.E Jeans, call (415) 891-7888 or visit them on the web at grp-e.com. To keep current on special events and promotions, like Grp.E on Facebook at facebook.com/grpes and follow them on Twitter twitter.com/GrpEjeans.
About Grp.E Jeans
Grp.E (pronounced like groupie) is the lifestyle clothing brand launched in 2010 by celebrated San Francisco clothing designer Tommy Pham for men and women who love to work hard…and play even harder. In the Grp.E brand, Pham—the clothing designer behind the LL Cool J and G-Unit (by 50 Cent) brands of designer jeans—has created the perfect party wear for the up-all-night rockstar, with great fitting jeans that are comfortable, tough, and come off in a snap.
The "E" in the name makes it clear that Grp.E is for everyone—and everyone has the right to party and have fun while living on this green earth. The Grp.E brand communicates that everyone is at once the same and unique. Each pocket bag is printed with the phrase "Everyone's Pink Inside" and the asterisk logo, the symbol of ambiguity, lets every wearer decide what statement they are making.
###