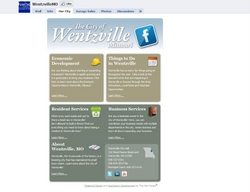 Local government use of social media applications efficient and effective technology and demonstrates value for their community. Progressive cities, such as Wentzville, are recognizing the need to have a presence in the social media space
Chesterfield, MO (Vocus) November 2, 2010
Online Interactive Agency, The Net Impact® was proud to be recognized at the Targeted Advertising and Marketing (TAM) Awards Party on September 29th for their Facebook page creation and social media marketing efforts with the city of Wentzville.
Wentzville, Missouri's fastest growing city, approached The Net Impact to revamp the look and feel of their current web design. The Net Impact redesigned the city's website which is powered by Auctori:city™, the search engine friendly, web content management system (WCMS) developed by Unidev® (Unified Development, Inc.). The Net Impact suggested the city enhance their online communication efforts beyond their website by embracing Facebook marketing.
Designed by The Net Impact, Wentzville's Facebook page reaches a targeted audience and broadcasts quick updates and valuable information regarding city events, meetings, economic developments, and more. Wentzville's Facebook page received the Silver Award in the Social Media Marketing Initiative Category from the Business Marketing Association (BMA) of St. Louis. The TAM Award was accepted by The Net Impact's Web Account Manager, Angela Trokey.
"Local government use of social media applications efficient and effective technology and demonstrates value for their community. Progressive cities, such as Wentzville, are recognizing the need to have a presence in the social media space," said Trokey.
The BMA's TAM (Targeted Advertising & Marketing) Award recognizes the best business-to-business marketing campaigns in the St. Louis region and honors the agencies, companies and individuals who create them. At the 2010 TAM Awards Party at the Chase Park Plaza, The Net Impact took home six awards, including all three awards in the Social Media Marketing Initiative Category. This was the first year the Chesterfield- based agency entered the TAM Awards competition.
About The Net Impact®
The Net Impact, a full service Internet marketing and web design, is a division of Unidev®. Since 1997, The Net Impact has been a web development leader, empowering clients with highly creative search engine friendly websites. Professional services encompass search engine optimization and Internet marketing solutions, Internet strategy development, training and seminars, social media marketing and design, and web design and development. For more information on The Net Impact, please visit http://www.thenetimpact.com, or call (636) 458-7772.
###