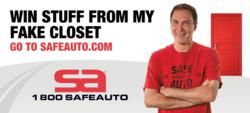 It was neat that for a nationwide campaign ShortStack was the backbone behind the entire competition.
Reno, NV (PRWEB) June 11, 2013
SafeAuto Insurance Company, a direct-to-consumer auto insurance business, is finding marketing success using social media. A year ago, SafeAuto insurance started using ShortStack, a leading software in custom Facebook app development, to aid in their overall marketing initiatives. SafeAuto Insurance has seen a 58 percent increase in Facebook "Likes" and obtained 10 percent of their total social media followers' contact information since running promotions using the ShortStack platform. This information is valuable to SafeAuto for retargeting initiatives outside of Facebook.
SafeAuto has run three Facebook competitions during the last year, realizing the effectiveness of ongoing promotions. For their most recent Facebook competition, "Norm's Stuff Giveaway," SafeAuto planned an online competition featuring their spokesperson, comedian Norm Macdonald. SafeAuto's goal was to drive viewers from traditional media platforms to their website and from there to the company's Facebook page where they could enter the competition via a ShortStack app. SafeAuto used ShortStack to build a landing page designed to inform people about the promotion while also capturing their contact information. "It was neat that for a nationwide campaign ShortStack was the backbone behind the entire competition," said Jason Parks, emerging media/video specialist, SafeAuto Insurance Company.
The "Norm's Stuff Giveaway" app was promoted on traditional media platforms—including billboards, television and radio commercials—throughout the country.
"We're constantly educating our users about the importance of ongoing Facebook promotions," said Jim Belosic, CEO, ShortStack. "SafeAuto Insurance is a perfect example of a company that is incorporating Facebook promotions the right way," he said. "Not only do they design long-term campaigns on their Facebook Page, which leads to increased ROI, but they do a great job of promoting their apps with traditional and nontraditional advertising," Belosic said. SafeAuto is also an example of how a business on Facebook can use ShortStack to collect data for outside marketing efforts and grow their online presence, according to Belosic.
Installing a Facebook app is an affordable way to build a bigger Facebook presence. A basic ShortStack plan is free for users with fewer than 2,000 fans; pages with more fans or users who want advanced features can upgrade to one of ShortStack paid plans. ShortStack has more than 220,000 users and more than 500,000 Facebook apps have been created using the platform.
For additional examples of businesses that have seen success using ShortStack, visit http://www.shortstack.com/case-studies.
About ShortStack
ShortStack is a self-service web app design tool that allows individuals and businesses to create custom Facebook apps for their Facebook Pages. The dynamic platform contains more than 40 tools and templates where users can integrate fan-gates, contests, sweepstakes, RSS feeds, Twitter, YouTube, and MailChimp newsletter signups that maximize their social media presence and potential. Custom Facebook apps designed using ShortStack are viewable via a mobile device or PC.