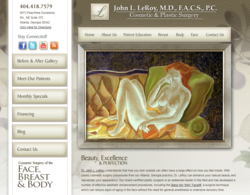 Atlanta, GA (PRWEB) April 26, 2011
At his Atlanta plastic surgery practice, Dr. John LeRoy recently addressed the results of a cosmetic enhancement study concluding the facelift—also one of the ten most performed procedures in the U. S.—makes patients look 12 years younger. Conducted by American Society of Plastic Surgery (ASPS) member Dr. Eric Swanson, the study surveyed 122 facelift patients with an average age of 57, from 2002-2007 [1]. While the study did not include data concerning the Band Aid facelift, a procedure Dr. LeRoy developed, he says he strives to keep his patients informed and up-to-date on all cosmetic enhancement news and research because he believes in supporting the formation of patient expectations and goals.
Dr. LeRoy says the standout statistics from the study concern overall patient satisfaction, as an overwhelming majority reported positive feedback from others (90%), high self-esteem (80%), and improvement in quality of life (70%). Dr. LeRoy says the amount of recovery time required is another important fact to note, which showed an average of 24 days off work. He adds that while results are not as dramatic, his mini facelift procedure does not require long recovery times, and patients at his Atlanta plastic surgery practice have indicated their results last an average of 10 years.
In a similar report concerning 2010 plastic surgery statistics from the American Society for Aesthetic Plastic Surgery (ASAPS) [2], nonsurgical procedures accounted for 83% of all cosmetic enhancement procedures performed in the U. S. Due to this recent and dramtic increase in procedures such as BOTOX Cosmetic®, dermal fillers, and facelifts, Dr. LeRoy says he expects the desire for less-invasive procedures to continue to grow with the recovering economy. He adds that while the methods may change, the desire for a younger, more vibrant aesthetic does not.
About the Open House
Dr. John LeRoy will host an open house to celebrate 19 years in practice with a wine and champagne, a passed tasting menu, a gift bag, and health and wellness giveaways. The event will take place at his Atlanta office on April 28, 2011 from 6:30 pm - 8:30 pm.
About Dr. LeRoy
John L. LeRoy, M.D., F.A.C.S. is an Atlanta-based plastic surgeon devoted to providing exceptional aesthetic care. He is a member of the American Medical Association, the American Society of Plastic Surgeons, and the Georgia Society of Plastic Surgeons. He studied cosmetic surgery at the prestigious Manhattan Eye, Ear & Throat Hospital in New York, and is board-certified by both the American Board of Plastic Surgery and the American College of Surgeons.
The Atlanta Cosmetic and Plastic Surgery practice of Dr. LeRoy is located at 5673 Peachtree Dunwoody Rd., NE Suite 375 in Atlanta, GA 30342, and can be reached at (404) 418-7579, or found online at http://www.atlantafacelift.com or the Dr. John L. LeRoy, MD Cosmetic and Plastic Surgery Facebook page.
[1] American Society of Plastic Surgeons: Facelift Makes You Look 12 Years Younger. Retrieved from plasticsurgery.org/Media/Press_Releases/Facelift_Makes_You_Look_12_Years_Younger.html on 4/25/2011.
[2] American Society for Aesthetic Plastic Surgery: Statistics 2010 ASAPS Quick Facts. Retrieved from surgery.org/media/statistics on 4/25/2011.
###