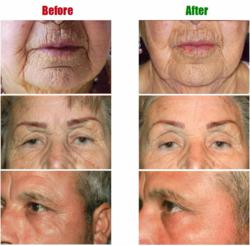 A ten-pack of the Facelift Without Surgery product is enough material for 30 to 60 treatments when properly applied. That's up to $9,000 in revenue for the Spa
Tampa Bay, FL, USA (PRWEB) May 15, 2012
Who wouldn't want to look younger in less than an hour with no knives, needles, pain, or dangerous drugs? Evidently, lots of people! According to Liberty Health Network (LHN) many Day Spas are finding more customers wanting to turn back time. Many Spas are now offering LHN's products as part of their package offerings.
"We've heard from many spa owners who want to purchase Beau Visage products for resale. To accommodate the requests, we are proud to announce that wholesale 10-packs of our best selling Beau Visage Non Surgical Facelift Mask are now available on Amazon.Com. We now offer single, double, three, and ten packs of our Facelift Mask online." Says LHN Chief Operating Officer Russell Bly.
Looking younger quickly is the is the result all Beau Visage products are geared toward. The Beau Visage Facelift Mask is an Aloe-Based Facial that gently softens skin, improves skin tone, diminishes wrinkles, and lightens blemishes. Although the product shows results virtually immediately, continued use brings added results.
"It's a great income stream for the Spa. Esthetician-applied masks are being priced in the $90 to $150 range by Spas." Say's LHN Chief Financial Officer Tracy Grevert. "A ten-pack of the Facelift Without Surgery product is enough material for 30 to 60 treatments when properly applied. That's up to $9,000 in revenue for the Spa" Said Grevert.
Of course, single "Facelift in a Bottle" units are available on Amazon.Com through Amazon's Fulfilled By Amazon (FBA) program. The FBA program allows Amazon Prime customers special perks such as second day or free shipping. The company says that while only the single untit Beau Visage Non Surgical Facelift is available through FBA, The Beau Visage Toner, Facial Cleanser, and Anti Aging Moisturizer can all be purchased traditionally from Amazon
About Liberty Health Network, LLC
Liberty Health Network is one of the nation's leading Direct and Internet Marketing companies with a state-of-the-art Global Distribution facility in Tampa Bay, Fl. For 12 Years, the Liberty Health Network name has been synonymous with high quality Mortechem-Free Nutritional Supplements, Anti Aging Skin Care, and Internet Web Applications. The statements made on this website have not been evaluated by the Food & Drug Administration. These products are not intended to diagnose, prevent, treat, or cure any disease.
Affiliates wishing to have their sites promoted are asked to send LHN an e-mail including the website address and requested keywords for inclusion in future Search Engine Optimized (SEO) campaigns. Affiliates may e-mail the above information to the company at the e-Mail address on this release.
This releases featured affiliate is Amazon of Health
Businesses or Individuals interested in distributing Liberty Products or requiring more information on this topic should contact Chief Operating Officer Russell Bly at (813) 774-8191 or e-Mail office(at)libertyhealthbiz(dot)com