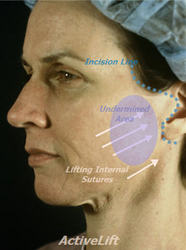 It takes time to do things right and I'll take however much time is needed. Placement of the lifting sutures is very critical to outcome and it's not something to be done quickly.
Laguna Niguel, CA (PRWEB) December 30, 2009
Face lift surgery costs can be daunting when all the components are added up. Dr. Lenore Sikorski, Board Certified Cosmetic Surgeon and Dermatology Diplomate, offers early facelift candidates a high-satisfaction "cost friendly" option with her trademarked ActiveLift™.
"Facelifts don't always have to be extensive in scope or extensively costly," says Dr. Lenore Sikorski. "When the average 40 something patient begins to notice that first obvious slackening, a lesser invasive procedure will often be all that is needed to provide a crisp jawline and uplift of the lower facial area. That's when the ActiveLift ™ becomes the perfect choice."
The ActiveLift is a unique surgical lifting procedure which not only addresses slackness in the face and jaw area, but also in the upper neck area. Most mini lifts fail to include the upper neck so the results are often a disappointment with very limited duration. By the inclusion of this key anatomical juncture, there is a continuous custom-tailored firming and lifting of all the areas of the lower face which are all part of the facial musculature.
Dr. Sikorski places permanent internal lifting sutures deeply into the support tissues of the face and upper neck. These lifting sutures provide the important structural scaffolding which makes the ActiveLift long lasting and natural in appearance.
Dr. Sikorski's practice, aptly named Natural Image OC, is intently focused on natural looking outcomes. The windswept, tight and obviously "worked on" look from old school surgical techniques has been completely replaced with specific anatomically integrated methods which create a fresh natural result that is virtually non detectible.
"I've been asked what the difference is," Dr. Sikorski relates. "And my answer is patience, perseverance, and positioning. It takes time to do things right and I'll take however much time is needed. Placement of the lifting sutures is very critical to outcome and it's not something to be done quickly. Precise incision locations, careful hand stitched closures and elimination of tension to achieve the finest line healing are all part and parcel of making sure my patients are absolutely pleased with outcomes.
"We believe in customizing our treatments to our patients' specific needs. We are not an assembly line."
Costs for cosmetic surgeries have become a bigger factor in the economic uncertainties people face these days. By utilizing an onsite surgical center and streamlining time requirements through anesthesia options and dedicated staff, Dr. Sikorski has been able to keep the costs very affordable for her patients. She notes, "People like looking better, but they don't like to have to go into heavy debt to accomplish that. If I can find ways to make the step to looking better more affordable, why would I not do that?"
Dr. Sikorski's patient advocacy prompted her to equip her medical and surgical clinic with an AAAHC accredited surgical suite attended by a certified anesthesiologist. The stringent certification criteria from the Accreditation Association for Ambulatory Health Care ensures patient safety and unparalleled professional care.
As a dual board certified Cosmetic Surgeon and Dermasurgeon, Dr. Sikorski has the training and expertise to provide comprehensive levels of surgical and nonsurgical solutions for any variety of aging or cosmetic issues.
Dr. Sikorski has pursued the highest levels of education and expertise in her field. Memberships and certifications include:
Diplomate, American Board of Cosmetic Surgery
Diplomate, American Board of Dermatology
Fellow, American Academy of Dermatology
Member, American Society for Mohs Surgery
Fellow, California Association of Cosmetic Surgeons
Fellow, American Academy of Cosmetic Surgery
Fellow, American Society of Dermatological Surgery
Member, Society for Laser Medicine and Surgery
Past President, Orange County Dermatologic Society
Member, American College of Phlebology
Member, California Medical Society
Member, Orange County Medical Society
Member, Liquid Facelift Association
Clinical Professor University of California Irvine Department of Dermatology
Consultant for Hoag and Mission Hospitals
Dr. Sikorski's practice maintains an educational website, http://www.DrSikorski.com and frequently speaks at community based seminars offered at no cost to the public. The practice, Natural Image OC Medcenter, is located in Laguna Niguel, Ca. Contact phone (949) 448 0487
###