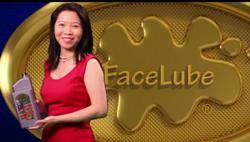 FaceLube is honored and incredibly thrilled to be featured on the Marie Osmond Show as one of the year's hottest items for inclusion in the Oscar celebrity swag bags.
Los Angeles, CA (PRWEB) June 26, 2013
FaceLube ultra-masculine anti-aging skin care for men is pleased to announce that it was featured earlier in the Hallmark Channel original series, the Marie Osmond Show as one of the hot new items for 2013 Oscar celebrity swag bags.
According to the website of The Hallmark Channel, which hosts the Marie Osmond Show, the show is "Hosted by international superstar Marie Osmond, 'Marie' is an inspirational journey to help people make a difference in their own lives. The show will feature celebrity and non-celebrity guests who drop by for revelatory discussion of lifestyle tips and trends, socially important issues, and breakthroughs that empower families. On 'Marie', Osmond imparts her insights on surviving all of life's roadblocks and detours with heartfelt advice about how to survive and move on with dignity, humor and optimism. The series will use Osmond's life experiences, her greatest successes and most crushing disappointments, including marriage and divorce, the trials of raising eight children, depression, and more, to provide insights and hope that we can all come through hard times with unstoppable enthusiasm, resilience, and courage."
FaceLube's eco-friendly, ultra-masculine line of men's grooming, skin care and anti-aging products are free of Paraben, sulfates, fragrances, perfumes, dyes, silicones, PEG, Oxybenzone and controversial chemicals. Built from the ground up for men, FaceLube is residue-free and delivers sustainable, visible results through the combination of the latest science-based anti-aging active ingredients and natural super botanicals. FaceLube has proven results, a large fan base and makes the best gift for men. Included in the 2013 Oscar swag bags are an assortment of FaceLube men's skincare and shaving products including ArtSciMEN, Camelot, FaceLube Classic, FaceLube Germany, FaceLube Natural!, FaceLube Premium, Liquid Armour, Lucky Dragon 888, Beverly Hills Bodywork & Grooming (Beverly Hills BGC), as well as VO By FaceLube.
Candace Chen, founder of FaceLube Automotive, the exclusive distributor of the FaceLube line of men's skin care products, states, "FaceLube is honored and incredibly thrilled to be featured on the Marie Osmond Show as one of the year's hottest items for inclusion in the Oscar celebrity swag bags". Oscar caliber male celebrities deserve the very best face cream and eco-friendly, anti-aging men's skin care and men's grooming products. Proper masculine men's skin care isn't about looking pretty or young – it's about looking good, for that extra edge over the competition. FaceLube men's skincare products are the perfect gift for dads, grads, boyfriends and husbands.
FaceLube's eco-friendly men's anti-aging facial cream and skin care line is conveniently packaged in easy to use, three-step kits ranging from $45 for the basic kit to $245 for the luxury edition. FaceLube's user-friendly, 3-step men's face care system features a powerful cleanser, a high-performance, non-oily treatment, and an active-rich skin protectant.
FaceLube, the world's finest facial cream for men, also carries a complementary line of eco-friendly men's skin care products such as a natural, silicone free anti-aging sunscreen for men, natural beeswax lip balm, and a full line of luxury anti-aging shaving products. Visit FaceLube.com today to see the full selection of eco-friendly men's anti-aging and grooming products, perfected for men who are ready to put his face on a maintenance schedule.
About FaceLube Automotive (http://www.facelube.com) – FaceLube Automotive is a distributor of high performance men's anti-aging skin care and men's grooming products. FaceLube Automotive was founded by Candace Chen, a 20-year veteran of the automotive industry. Her company is an equipment supplier to many of the top names in the automotive industry. Among her many honors, she is an appointed trade policy advisor on SMEs (Small & Medium Sized Enterprises) to two cabinet level officials - the U.S. Secretary of Commerce and the U.S. Trade Representative. Ms. Chen is a small business advocate whose work includes promoting the export of American products by leveling the playing field abroad for small American manufacturers. Ms. Chen is a Next Generation member of the Pacific Council on International Policy, the western affiliate of the Council on Foreign Relations.