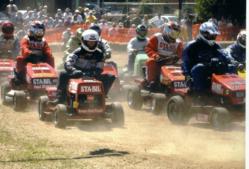 Lawn mower racing brings a refreshing sense of humor and adrenaline rush to a motorsport that the whole family can enjoy and rally behind. The USLMRA's down-to-earth and humorous approach to motorsports is very much in line with FaceLube's tongue-in-cheek
Los Angeles, CA (PRWEB) November 01, 2011
FaceLube Best Skin Care For Men partners with the US Lawn Mower Racing Association (USLMRA), the organizers of the STA-BIL® Lawn and Garden Mower Racing Series to promote FaceLube's premium line of performance-based anti-wrinkle creams and facial skin care products for men.
"It's time for lawn mower racers to put their masculine faces on a maintenance schedule," said Candace Chen, FaceLube's founder. "For lawn mower racers, as for all masculine men, having access to the best men's skin care is not about vanity, and it's not about looking young - it's about looking good. It's about getting the edge and getting ahead of the competition. FaceLube celebrates masculinity and communicates with men through their natural affinity to their rides."
It is in this spirit of men's affinity to their rides that FaceLube® supports the Sam Rogers U.S. All American Open, November 4-6 in Stevenson, Alabama. The "All American" will bring together lawn mower racers from across the country to honor the late Sam Rogers, a lawn mower racer who recently passed away.
Adult Racing Class Champions will receive FaceLube® Premium Skin Care For Men. Spirit & Spark Trophy Winners will receive FaceLube® Standard Kits. In addition, all adult racers will receive FaceLube Natural Anti-Aging Sunscreen.
"Lawn mower racers are competitive, masculine men who take pride in their rides and race for bragging rights. Lawn mower racing brings a refreshing sense of humor and adrenaline rush to a motorsport that the whole family can enjoy and rally behind. The USLMRA's down-to-earth and humorous approach to motorsports is very much in line with FaceLube's tongue-in-cheek approach to men's grooming. FaceLube is ecstatic to be the first high performance men's skin care brand to partner with the STA-BIL Lawn and Garden Mower Racing Series to show men how easy it is to take proper care of his face, so he looks as good as his ride." Says Chen.
Like a custom racing mower that is built from the ground up, FaceLube anti-aging men's skin care products are built from the ground up for masculine men and uses no common beauty terms with female characteristics. Because men and women age differently, masculine men have different needs and preferences than women. "FaceLube is proud to support lawn mower racing and the men who drive the sport forward." Chen is also a 20 year veteran of the automotive industry as a Los Angeles-based manufacturer and distributor of automotive service equipment and specialty products.
"Over the past 20 years, I've seen the faces of a lot of male lawn mower racers, and I'm sure glad to have FaceLube® join us in helping them look good and help fight the aging that comes with the stress of being a competitive lawn mower racer," said Bruce Kaufman, "Mr. Mow It All," president of the U.S. Lawn Mower Racing Association (USLMRA). "Just like the maintenance required to allow our racing machines to tear up the turf, racers' faces need maintenance too."
The U.S. Lawn Mower Racing Association sanctions and presents organized lawn mower racing across America, including the 20-race STA-BIL Lawn and Garden Mower Racing Series and a network of 50 Local Chapters and Affiliated Clubs hosting more than 140 sanctioned races nationwide. Title sponsor STA-BIL is the #1 selling fuel stabilizer that keeps gas fresh in stored power equipment. STA-BIL lawn mower racers compete in seven classes at speeds up to 60 mph with all cutting blades removed.
For mow information visit http://www.letsmow.com and http://www.facelube.com
About FaceLube.com – FaceLube.com is a distributor of high performance masculine men's grooming, the best skin care for men and the best face cream products. FaceLube was founded by Candace Chen, a small business advocate and 20-year veteran of the automotive industry. Her company is an equipment supplier to many of the top names in the automotive industry. Among her many honors, she is an appointed trade policy advisor on SMEs (Small & Medium Sized Enterprises) to two cabinet level officials - the U.S. Secretary of Commerce and the U.S. Trade Representative. Ms. Chen is a small business advocate whose work includes helping to level the playing field abroad for small American manufacturers. Ms. Chen is a Next Generation member of the Pacific Council on International Policy, the western affiliate of the Council on Foreign Relations.
###