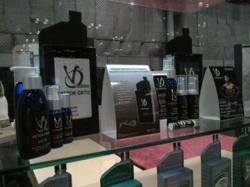 Victor Ortiz will make a guest appearance on Chiquis 'n Control, the new spin off from Latin Superstar Jenni Rivera's number one Friday night show, I Love Jenni. to present VO by FaceLube to Chiquis' new Blow Me Dry Bar.
Los Angeles, CA (PRWEB) September 06, 2012
Skincare for women has always been abundant, with thousands of brands focused on creating products in order to make women look youthful and feel beautiful, but what about men? That's the question that Candace Chen, the creator of FaceLube asked as well as answered.
With over 150 US and international patents both issued and pending and an article-exposé series entitled "Why The Beauty Industry Hates Men" and "Straight Talk About Masculine Face Care", an unprecedented candid Q&A with insights the beauty industry wish you didn't know about the men's anti-aging skin care sector, no one knows men's anti-aging face cream and skin care products like Chen.
Her background in the automotive industry led to her product design and her unique take on an overlooked population in the anti-aging skincare segment. Using creative correlations between something men understand (car talk) and something they often don't (men's skin care), Chen created FaceLube, a line of high-end, eco-friendly, performance-based grooming products that includes skincare and anti-aging technology built from the ground up for men.
FaceLube makes it easy for any man to put his face on a maintenance schedule and keep his skin rejuvenated and hydrated. Together Chen and former Welterweight boxing champion "Vicious" Victor Ortiz created VO By FaceLube men's anti-aging skin care and luxury shaving line, an ultra-masculine, eco-friendly, high-end men's anti-aging grooming line that is Built for a Champion - Fit for a Man's Man. VO advanced formulation of super botanicals and science-based anti-aging active ingredients has proven especially suitable for athletes and any man with an active lifestyle.
This Saturday, September 9, 2012, one very active man on the go, Victor Ortiz, will make a guest appearance on Chiquis 'n Control, the new spin off from Latin Superstar Jenni Rivera's number one Friday night show, I Love Jenni. Chiquis 'n Control will follow the daily life of Rivera's oldest daughter, Chiquis, including her entrepreneurial skills as she focuses on her brand new blowdry bar, Blow Me Dry Bar. In an episode where stars collide, Ortiz looks to present the new product line VO by FaceLube to Blow Me Dry Bar. Here is a sneak peek of Chiquis 'n Control before the episode airs this Saturday, September 9, 2012. Catch Chiquis 'n Control every Saturday @ 3pm/2pmC on mun2!
About FaceLube Automotive:
FaceLube Automotive is the distributor of high performance men's grooming products, the best skin care for men, the best face moisturizer for men and the best wrinkle cream for men. FaceLube was founded by Candace Chen, a 20-year veteran of the automotive industry. Her company is an equipment supplier to many of the top names in the automotive industry. Among her many honors, she is an appointed trade policy advisor on SMEs (Small & Medium Sized Enterprises) to two cabinet level officials - the U.S. Secretary of Commerce and the U.S. Trade Representative. Ms. Chen is a small business advocate whose work includes helping to level the playing field abroad for small American manufacturers. Ms. Chen is a Next Generation member of the Pacific Council on International Policy, the western affiliate of the Council on Foreign Relations.
VO By FaceLube men's anti-aging skin care kits start at $45, while individual products starts at $10. Visit http://www.facelube.com to shop the entire line. Or follow FaceLube on Twitter @facelube.
About TLK Fusion:
TLK Fusion is one of the leading Hollywood marketing firms in Los Angeles. TLK Fusion's innovative campaigns, strong celebrity relationships and worldwide distribution connections can take you and your brand to the next level. In today's society, celebrities are walking brands. With an A list roster of celebrity relationships, TLK Fusion is able to leverage their network to gain maximum exposure for their clients. Through these top-tier, powerful alignments, TLK Fusion can effectively enhance the public's perception of your brand. TLK Fusion's out-of-the-box thinking and 360 degree service mix has proven successful time and time ago. Visit http://www.tlkfusion.com for more information and TLK Fusion Reviews.
About Jenni Rivera Presents: Chiquis N Control (Saturday, 3-4p.m.)
The mun2 original reality series featuring Chiquis Marin, daughter of Latin music superstar Jenni Rivera, had its highest audiences since its premiere (7/28/12), delivering 220,000 total viewers, Chiquis made mun2 the #1 most watched cable network regardless of language among both Hispanic adults 18-34 and adults 18-49 in its time period, out-delivering MTV, Spike, Lifetime, Nickelodeon, The Cartoon network, Comedy Central and Disney among others. For the month of August, Chiquis grew the time period by triple-digits, +215% with 104,000 total viewers, +167% with 56,000 adults 18-49, and +188% with 49,000 adults 18-34.
About mun2:
mun2 is the Hispanic cable network for young millennial adults 18-34. From reality to music, on-air to digital, mun2 creates original content that resonates across a multi-screen platform. Young, vibrant and unabashedly Latino, mun2 has a distribution to over 38 million households. The network is part of Telemundo Media, a division of NBCUniversal.