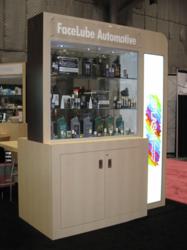 The expo was a resounding success for FaceLube. The novelty and market potential for the FaceLube line of skin care and grooming products for men and the FaceLube Marketing System stunned the beauty industry.
Los Angeles, CA (PRWEB) August 06, 2012
FaceLube Automotive is proud to announce that its innovative line of men's anti-aging skin care products, including VO Victor Ortiz By FaceLube, has been invited to anchor the 2013 SPLASH Pavilion for Emerging Brands of Tomorrow hosted by the 2013 HBA Global Beauty Expo & Conference, as a member of the Emerging Brands Hall of Fame.
FaceLube Automotive presented its full line of men's skin care and grooming products at the 2012 HBA Beauty Expo, having won its place through a competition earlier in the year sponsored by HBA Global in search of the beauty industry's most promising emerging brands. The HBA organized competition brought together an unprecedented panel of judges representing some of the top brands in the beauty industry and cosmetic world. The judges were tasked to test and vote on the emerging products of 2012. FaceLube entered its line of ultra high-end grooming and face care for men and was invited to participate in the exclusive high-energy and high-visibility SPLASH! Pavilion section on the main floor of the 2012 HBA Global Beauty Expo & Conference in New York City.
The expo was a resounding success for FaceLube. The novelty and market potential for the FaceLube line of skin care and grooming products for men and the FaceLube Marketing System stunned the beauty industry. As one visitor said, "I was blown away by your product line and concept".
The exhibition was attended by more than 16,000 beauty industry professionals from 15 countries. The FaceLube exhibit attracted scouts from a number of major brands thanks to HBA's VIP program which hosted Amway, Avon, Bare Escentuals, Benefit Cosmetics, Bliss, Chanel, Clinique, Colgate Palmolive, Coty, Elizabeth Arden, Estee Lauder, Fresh, InterParfums, Johnson & Johnson, Kate Sommerville, La Mer, L'Oreal, Lord & Taylor, LVMH, Maybelline, Nordstrom, Nu World Beauty, Proctor & Gamble, Revlon, Shiseido, Unilever, Victoria Secrets and Zotos International to name a few. As a team of scouts representing one of the world's best known beauty brands said, "we were immediately drawn to FaceLube's ingenious packaging and novel marketing approach to men's skincare, we are definitely taking this back to headquarters for further study".
The accolades were plentiful and unanimous. The vast majority of visitors to the FaceLube exhibit stated that FaceLube's men's skin care and anti-aging product line was easily the most inspired and memorable product line not only on the HBA expo floor, but in recent memory. Visitors who routinely visit the annual HBA Expo and Cosmoprof Shows predicted that FaceLube will stake it's claim and is destined to be a game changer for the beauty industry. FaceLube also attracted researchers from Western Europe's most respected laboratories who marveled at the ingredient deck and quality behind the FaceLube line of men's grooming and shaving products. Just about every anti-aging innovation they can think of has already found their way into the FaceLube line of anti-aging skin care product line for men in one form or another.
According to Candace Chen, founder of FaceLube who personally staffed the exhibit, "FaceLube has established itself as the beauty industry's only One-Stop-Shop for the best men's anti-aging skin care with an extensive and unrivaled selection of results-based men's anti-aging skincare products to suit every skin type, personal preference, and budget. The HBA Expo did not disappoint. I was amazed by the quality of leads, the traffic and attention from FaceLube's participation in the SPLASH! Pavilion. We've attracted more major buyers and more doors than anticipated and the leads are still coming in!"
Through-out the three day event, there was a constant stream of people who stopped by the FaceLube exhibit for no other reason than to "admire the packaging". In fact, visitors included fellow men's grooming brands who stopped by to marvel, learn about FaceLube's unique approach and seek advice that could be helpful to their own strategy. Adding to the list of admirers were several top Public Relations agencies and venture capital who felt that FaceLube is the emerging brand to watch and offered their business cards for possible future collaboration. FaceLube also hosted over 40 beauty bloggers who had plentiful questions about FaceLube's anti-aging skincare for men and tweeted back to their followers instantaneously, as well as media who requested on camera and on-location interviews.
The HBA Global Expo & Conference is the premiere product development source–from concept to market–for the cosmetics, personal care, skin care, fragrance and wellness industries and features a comprehensive educational program and exhibits floor.
About FaceLube Automotive: FaceLube Automotive is the distributor of high performance men's grooming products, the best face moisturizer for men, the best face cream for men, and the best skin care for men. FaceLube was founded by Candace Chen, a 20-year veteran of the automotive industry, founded FaceLube Automotive. Her company is an equipment supplier to many of the top names in the automotive industry. Among her many honors, she is an appointed trade policy advisor on SMEs (Small & Medium Sized Enterprises) to two cabinet level officials - the U.S. Secretary of Commerce and the U.S. Trade Representative. Ms. Chen is a small business advocate whose work includes helping to level the playing field abroad for small American manufacturers. Ms. Chen is a Next Generation member of the Pacific Council on International Policy, the western affiliate of the Council on Foreign Relations.
For more information visit http://www.facelube.com