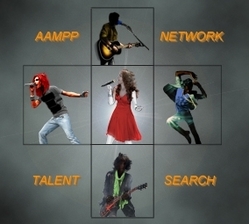 "I think AAMPP Network is a great idea and a wonderful concept" -Travis Acker - Artist Relation, Music Marketing - Myxer.com
Hollywood, FL (PRWEB) July 15, 2010
AAMPP Network™, a newly formed Membership Entertainment Company™ that pledges to be "For members, by members, to protect members™" is proud to present its Preliminary-Launch set for August 2010.
AAMPP Network™ | The Membership Entertainment Company™ is an all inclusive independent music service provider. The company is an Artists, Agents, Managers, Producers, Promoters (A.A.M.P.P) network that strives to foster the growth of up-and-coming musicians and music professionals while showcasing the best of regional and national independent music. They accomplish this by utilizing the skills and services of their member artists and associates; coupled with the services of their world class content delivery and multi-media partners to manufacture, market, promote and distribute music, video and merchandise to the general public through - YouRelease music & video distribution.
In an attempt to showcase the viability and effectiveness of all the services that ANI offers its members, the company has organized a regional talent search to find the best of up-and-coming unsigned independent musician, groups and or bands to represent the company and become the 'Faces of AAMPP Network™'.
This is a judged talent search event for independent artists of every genre, who feel they have what it takes to become a star in today's fast growing music industry.
AAMPP Network Inc, (ANI) will provide five music acts (the winners) of the "Faces of AAMPP Network™" talent search with Production, full Marketing, Promotions and Publicity, locally and nationally.
Digital Music Distribution: to iTunes, Napster, AmazonMp3, Rhapsody, Sprint, T-Mobile, 7Digital, US Cellular, Amie Street and more.
Physical Music distribution: to retail outlets.
Video Distribution: to AOL, Bing, iTunes, Hulu, Youtube, Metacafe, Vimeo, Vevo and more.
Radio Marketing: to the top radio stations across North America and Canada. - Example: Cox, Clear Channel, Sirius | XM and GrooveShark.
In an effort to gain mass media exposure for the winners of this annual event the company will sustain these efforts for one full year.
This is slated to be a major event that no independent musician should miss. The event will be held at The Westin Ft. Lauderdale Hotel - located at 400 Corporate Drive. Fort Lauderdale, Florida 33334.
Special guest judges have been selected to participate in the talent search process.
Judges Include:
Tamara G - Radio personality / Cox Radio 93.9FM - The Coast
Travis Acker - Music Marketing & Artist Relations / Myxer.com
Allen "Zenn Lee" Ponch - Chief Editor / GlobalHitMusic.com
Antonio "Tone" Ramirez – President / Done Deal Records
Pre - Registration is required.
To register please visit:
http://www.aampp.net/faces-of-aampp-network
Every idea begins with a motive and a forward moving momentum. This starts with a vision and the people around you believing in the same ideals. In 2007 two forward thinking South Florida entrepreneurs came together to bring you AAMPP Network™. By pursuing the same vision and moving forward on the same principles, the initiative will change the face of the Independent Music Marketplace as we know it.
The Grand Launch is set for the 1st quarter of 2011.
Current Sponsor(s):
The Westin Hotel - Ft. Lauderdale is the official Host Sponsor for the "Faces of AAMPP Network" - talent search. - Ft. Lauderdale location.
Myxer will coordinate the Advertising efforts with ANI (Myxer.com has one of the largest interactive mobile audience with over 34 million subscribers)
PartySpree.com will coordinate the Advertising efforts with ANI (PartySpree.com is one South Florida's largest online entertainment and event destination finder)
For more information, please visit: http://www.AAMPP.net
For talent search registration:
http://www.aampp.net/faces-of-aampp-network
For Hotel direction place contact the Westin Hotel: (954) 772-1331
For all media inquiry, please contact pr(at)aampp(dot)net
An Upholdin™ Company
# # #