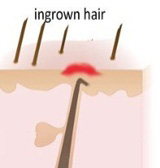 Facial Attraction reveals how laser is the most effective treatment available for painful and unsightly ingrown hairs.
Melbourne, Victoria (PRWEB) June 04, 2012
Australia's leading specialists in laser hair removal, Melbourne-based Facial Attraction Laser and Skin Clinic have revealed there is hope for those afflicted by painful ingrown hairs. Treating the affected area with light is the best and most effective way to remove the problem, a revelation that will save many from suffering and the worst-case scenario of being admitted to their local hospital.
Although ingrown hairs may seem inconsequential or even trivial to many, they have been known to cause potentially dangerous and even life-threatening conditions.
As Dermal Clinician and Clinic Manager, Kirsty Warren, reveals, "Thanks to ingrown hairs, people have had to be hospitalised for sepsis which is a serious infection of bacteria in the blood."
"Others have even had to remove large parts of body tissue which has become infected. Yes, all because of a little ingrown hair."
At Facial Attraction's ten Melbourne clinics, ingrown hairs are reported to be one of the main complaints that their clinicians receive on a day-to-day basis.
As Ms Warren explains, the reason Facial Attraction recommends using laser hair removal to treat ingrown hairs is simple.
"The light is attracted to the dark pigment in the hair and even though the hair is trapped under the skin the light will travel to it. The light then converts to heat which will burn up the hair and remove the source of infection and irritation in the skin."
"This means that our female clients can look forward to a smooth bikini line in only a few treatments or banish those unsightly ingrown hairs on their legs forever. It's also fantastic for our male clients who are sick of the razor bumps on the neck that occur due to constant shaving."
For those looking to use laser hair removal, the cooler months are the most appropriate time to commence treatment. This is because as prior the client should not have sun exposure on the area to be treated or fake tan.
Ms Warren expands on this, saying, "Most clients will need a course of six treatments approximately six weeks apart to ensure the body has broken down the hairs causing the problems. This is why we encourage those suffering from ingrown hairs to seek out a reputable specialist in laser hair removal now and be pain-free and hair-free in time to hit the beach next summer."
Facial Attraction are widely considered to be experts in the field and can provide a range of information for any consumers seeking clarification on laser hair removal. Melbourne residents can visit any of their 10 locations or contact the company direct on 1300 735 234.
For more information on laser treatments, visit http://www.facialattraction.com.au.
About Facial Attraction
Operating since 2003, Facial Attraction Skin and Laser Clinics Melbourne are experts in providing specialty advice in laser hair removal and skin rejuvenation, skin health and non-surgical cosmetic treatments.
Their fully qualified and accredited Laser clinicians, nurses, dermal clinicians and doctors operate at 10 convenient locations throughout Melbourne using the safest and most effective medical grade Laser / SIPL technologies available.