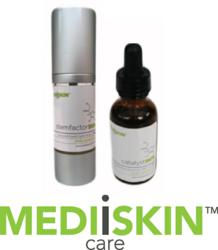 With the Mediiskin range, Facial Attraction display how remarkable skin correction is possible with natural and organic ingredients.
Melbourne, Victoria (PRWEB) July 23, 2012
In the past decade, Melbourne based laser hair removal, acne treatment and skin specialists, Facial Attraction Laser and Skin Clinic, have witnessed a dramatic shift in the type of skin care products being used by Australians on a daily basis. Based on the rapid advances in the research area of skin health restoration, their cosmeceutical skin care range, Mediiskin, is at the scientific forefront of skin health, and now boasts two exciting new additions – Stemfactor and Catalyst.
Dermal Clinician and Clinic Manager of a Facial Attraction Melbourne Laser Clinic, Kirsty Warren, is excited to announce the arrival of these two revolutionary products, remarking "Stemfactor is fantastic because it is one of the most scientifically advanced cosmeceutical serums on the market today."
"The product contains over 150 skin growth factors which are designed to 'talk' to the individual's skin cells and encourage the cells to initiate repair processes as well as stimulate new cells to build collagen and elastin and regulate the production of melanin in cells responsible for hyperpigmentation."
The 150 growth factors have been derived in a laboratory from adult Mesenchymal Stem Cells. These Mesenchymal cells have the ability to differentiate into different kinds of cells which make them ideal for the harvesting of all the different types of stem factors for your skin.
Catalyst is the second new product in the Mediiskin range and has been formulated using a revolutionary process which itself has changed Facial Attraction's understanding of DNA cell repair.
As Ms Warren reveals, "Over the past few years, Mediiskin scientists have been working on Zinc Finger technology. It is a unique patented combination of amino acids and key co-factors that have the ability to turn on the wound healing 'switch' in the DNA of our skin cells."
"This is what makes Catalyst such an exciting addition to our range as it has multiple benefits. The Zinc Finger technology that it's based on will improve wound healing, lighten pigmentation, reduce visible capillaries, and stimulate collagen and elastin production. Another fantastic benefit of the zinc fingers is that they act as a 'bridge' for the active ingredients contained in our active serums so they find it easier to penetrate the cells making them even more efficient."
Mediiskin - The Cosmeceutical Advantage
There are two distinct categories in skin care products on the market today – Cosmetic and Cosmeceutical.
Cosmetic products are classified as those that are applied to the skin to conceal or mask the skin, whereas Cosmeceutical products are classified as products that are applied to the skin and have the ability to change the skin's structure and the way it functions.
As Ms Warren explains, "Cosmetic products often smell, feel and look amazing but have no actual benefit for your skin. Many well known skin care brands have products on the market today which are cosmetic although their marketing would have you believe otherwise."
"This is unlike all Mediiskin products that fit into the cosmeceutical category. The easiest way to explain them is to think of the products being like a medicine or a tablet that you apply topically instead of ingesting."
With the Mediiskin range, Facial Attraction display how remarkable skin correction is possible with natural and organic ingredients.
The two new products to the Mediiskin Skincare range – Stemfactor and Catalyst – follow in the footsteps of previous products which are designed to restore skin nutrition, repair DNA, significantly increase collagen and elastin stimulation, restore the skin's barrier, and remodel scarring.
For advice on skin health, permanent hair removal, acne treatment or for more information on Facial Attraction's clinically proven active skin care range, visit http://www.facialattraction.com.au
About Facial Attraction
Operating since 2003, Facial Attraction Laser and Skin Clinics Melbourne are experts in providing specialty advice in laser hair removal and skin rejuvenation, skin health and non-surgical cosmetic treatments.
Their fully qualified and accredited Laser clinicians, nurses, dermal clinicians and doctors operate at 10 convenient locations throughout Melbourne using the safest and most effective medical grade Laser / SIPL technologies available.