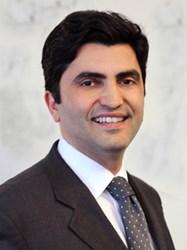 The transparent artificial muscle may be useful in helping patients achieve facial reanimation with surgery such as the cross facial nerve graft
Los Angeles, CA (PRWEB) October 15, 2013
Dr. Babak Azizzadeh, Chairman and Director of the Center for Advanced Facial Plastic Surgery and a surgeon at the Facial Paralysis Institute, has just written a new article that explains how transparent artificial muscle may soon become part of a surgeon's facial reanimation strategy for patients who are suffering from permanent facial paralysis. These advances could be of great service to people who suffer from this condition.
In addition to Dr. Azizzadeh's new article, an article published September 5, 2013 on the Harvard School of Engineering and Applied Sciences' website clearly illustrated just how innovative transparent artificial muscle can be. In a materials science laboratory at Harvard University, the artificial muscle was able to play the "Morning" prelude from "Peer Gynt." A high-voltage signal that ran through the transparent material causes it to vibrate and contract, thus producing the sounds of the classical music piece.
As Dr. Azizzadeh noted in his new article, the artificial muscle has the potential to help people in a variety of ways. Citing the recent Harvard article, he said he is personally excited about the potential that the product may have in the field of facial reanimation. Although there is still a lot of research that must be conducted, Dr. Azizzadeh contends that this biocompatible, gel-based device may be groundbreaking in many areas of medicine, including treating people with permanent facial paralysis.
"The transparent artificial muscle may be useful in helping patients achieve facial reanimation with surgery such as the cross facial nerve graft," Dr. Azizzadeh wrote in the new article, adding that cross facial nerve graft is a surgery usually performed with gracilis muscle free flap surgery, in which a portion of the gracilis muscle of the thigh is harvested, then connected to the cross facial nerve graft, with the goal of restoring spontaneous facial movement in patients with permanent facial paralysis.
"The transparent artificial muscle could one day be used instead of the gracilis muscle from the thigh. Using the artificial muscle would make the cross facial nerve graft a one-step procedure and eliminate the need to harvest muscle from the thigh. Not only would this option save time but, more importantly, it would reduce the trauma to the patient and speed up recovery time."
Currently, Dr. Azizzadeh performs cross facial nerve graft and gracilis muscle free flap surgeries on people who have had facial paralysis for two or more years. He and his team of surgeons at the Facial Paralysis Institute are considered to be among the best in the United States, and they have performed many successful facial paralysis procedures over the years.
Anybody who would like to learn more about Dr. Babak Azizzadeh and facial paralysis surgery is welcome to visit the Facial Paralysis Institute's website; there, they can read about him and his work. Those who wish to schedule a consultation may call the office directly to set up an appointment.
About Dr. Babak Azizzadeh:
Dr. Babak Azizzadeh, Chairman and Director of the Center for Advanced Facial Plastic Surgery and a surgeon at the Facial Paralysis Institute, is one of the leading international experts in facial plastic surgery and facial paralysis .His expertise in cosmetic and reconstructive plastic surgery has made him one of the most sought-after physicians and facial paralysis surgeons. For more information, please visit http://www.facialparalysisinstitute.com/