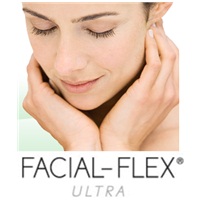 Consumer feedback is important to us, after receiving several comments concerning the durability of the product we listened and decided to give the product a facelift…no pun intended
Blue Bell, PA (PRWEB) January 09, 2013
Facial Concepts, Inc., innovator of the Facial-Flex Ultra recently updated the manufacturing of the leading facial exercise device resulting in enhanced flexibility and durability of the product when compared to the original design.
Next Medical Design, LLC an international independent medical device development and testing company completed the product performance testing to ensure the device is built to ISO 13485 and FDA CFR 820 guidelines. Upon completion of the testing it was determined the new plastic material was 30% stronger than the original material used in the design of the facial exercise device.
"Consumer feedback is important to us, after receiving several comments concerning the durability of the product we listened and decided to give the product a facelift…no pun intended" Jill Abrams Lapensohn, Public Relations Manager for Facial-Flex
In clinical studies, Facial-Flex Ultra has been proven to impact over 30 muscle groups in the face, chin and neck. Using Facial-Flex just 4 minutes a day, resulted in facial muscles being strengthened by 250%, skin firmness improved by 32% and blood flow increased by 10%. Overall, participants reported face-toning, face-lifting results to facial skin.
Facial-Flex Ultra is intended to become part of a daily beauty regimen; therefore it is imperative that the device withstand the test of time. The new material meets all of the same criteria as the old material, is completely safe, and is approved by the FDA. The revitalized product is currently available for retail and consumer purchase at http://www.facialflex.com.
About Facial Flex:
Facial Concepts, Inc. (FCI) was formed in 1989 to develop a patented facial rehabilitation device that increases oral-motor muscle strength called the Facial-Flex®. Facial-Flex® is a FDA registered medical device for exercising muscles of the face, chin and neck. This product evolved from a device originally designed for rehabilitation of facial burn patients then further developed for the use of esthetic benefits and facial muscle toning. Facial Concepts, Inc. is proud to offer this safe and effective alternative to plastic surgery.