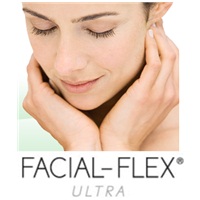 Blue Bell, PA (PRWEB) October 18, 2012
As human beings we are drawn to look at a person's face as part of normal social engagement. A youthful appearance is generally received as attractive, and exemplification of good health. On the flip side, a person with deep wrinkles and poor facial tone may make a first impression of the opposite reaction.
Despite a person's actual age, it is possible to maintain a youthful fresh appearance. Facial Concepts, Inc., creator of the innovative Facial-Flex Ultra facial exercise and toning system, offers these tips for defying the effects of the clock to keep a youthful appearance.
Step 1
Eat Healthy and incorporate foods that are energy boosters and high in antioxidants. Foods like bananas, raw nuts, avocados, and sweet potatoes are super foods that will be sure to supercharge your diet and can help with concentration and manage stress.
Step 2
Drink plenty of water throughout the day, this will hydrate your body and skin helping to maintain a youthful appearance.
Step 3
Cleanse and moisturize the face, chin and neck morning and night. Facial Concepts, Inc. offers Facial-Flex Renewal Complex complete with ingredients like Ester OPC, the world's premier and most effective anti-oxidant for combating free radicals.
Step 4
Participate in regular exercise, and don't forget the face. We all go to the gym to maintain a fit, healthy appearance, but forget that the same principles can be applied to our face. Muscle atrophy is the leading cause of facial lines, creases and folds. Facial Flex Ultra is a medical device used to tone the muscles of the face, chin and neck reducing the effects of aging.
It is never too late to start implementing simple everyday practices like these to help reduce and in some cases reverse the effects of aging. To learn more about Facial Concepts, Inc. and our products visit us at http://www.facialflex.com .
About the Facial Concepts, Inc.:
Facial Concepts, Inc. (FCI) was formed in 1989 to develop a patented facial rehabilitation device that increases oral-motor muscle strength called the Facial-Flex®. Facial-Flex® is a FDA registered medical device for exercising muscles of the face, chin and neck. This product evolved from a device originally designed for rehabilitation of facial burn patients then further developed for the use of esthetic benefits and facial muscle toning. Facial Concepts, Inc. is proud to offer this safe and effective alternative to plastic surgery.