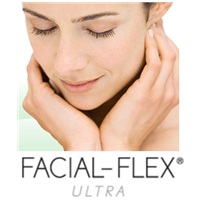 Consequently, age-associated changes in facial wrinkles and sags are not only due to loss of dermal elasticity, but also reflected by weakened facial muscles
Bluebell, PA (PRWEB) September 20, 2012
In the battle against the clock, women and men alike have taken interest in daily exercise for the body, but are just beginning to realize the importance of strengthening the muscles in the face, chin and neck. Facial Flex® Ultra has been clinically proven to be effective in significantly increasing facial muscle strength, uplifting, contouring and firming the face by applying the principles of dynamic resistance training to over 30 muscle groups in the facial region.
The Journal of Geriatric Dermatology stated "Facial appearance is particularly influenced by the underlying muscles of facial expression because they are directly attached to the skin. Consequently, age-associated changes in facial wrinkles and sags are not only due to loss of dermal elasticity, but also reflected by weakened facial muscles".
Facial Flex® Ultra is the first and only progressive resistance exercise device clinically proven to develop face toning, reduce wrinkles and offer facial rejuvenation. In four easy steps, the Facial Flex® Ultra will help to make a younger looking you.
Step 1
View the 10 minute instructional video or read the included written instructions
Step 2
Apply the specially formulated, anti-oxidant rich moisturizer with Ester OPC.
Step 3
Place the Facial Flex® Ultra between your lips, resting the white ends in the corners of your mouth, then squeeze the device inwards with the sides of your mouth to form an oval. Do this 30 to 40 times within one minute.
Step 4
Change the device's elastic power band weekly; a six month supply of bands is included. The resistance level can be increased as the muscles in the face become stronger.
Clinical testing was conducted by a leading independent research laboratory and published in the Journal of Geriatric Dermatology which confirmed a 250% average increase in facial muscle strength, a 32.5% average increase in facial firmness and improved facial blood circulation over an eight week period of using the Facial Flex® Ultra.
About the Facial Concepts, Inc.:
Facial Concepts, Inc. (FCI) was formed in 1989 to develop a patented facial rehabilitation device that increases oral-motor muscle strength called the Facial-Flex®. Facial-Flex® is a FDA registered medical device for exercising muscles of the face, chin and neck. This product evolved from a device originally designed for rehabilitation of facial burn patients then further developed for the use of esthetic benefits and facial muscle toning. Facial Concepts, Inc. is proud to offer this safe and effective alternative to plastic surgery.