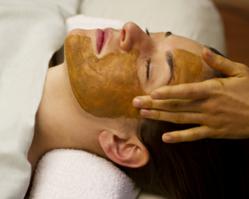 Training in ayurvedic facials (faciales ayurvedicos) is offered in Spanish by Escuela de Ayurveda de California
Bogota, Colombia (PRWEB) April 05, 2013
The internationally recognized institution will host its first training in Spanish in Bogota, Colombia in 2013. The ayurvedic program (medicina ayurvedica) will be held from October 8 - 10.
Ayurvedic facials (faciales ayurvedicos) restore the balance of the doshas in the skin of the face. During this 21 hour hands-on program, students will learn the beautiful and relaxing art of providing an Ayurvedic facial. Students will work in groups of two, giving and receiving facials. Student will learn a multi-part procedure that includes the application of oils, heat and massage to the face followed by the application of skin care therapy. This is a very popular spa therapy to support the return to one's natural beauty.
Ayurveda, which literally means "The Science of Life," is the healing science from India. It has been practiced for over 5,000 years by millions of individuals to assist the body in journeying back to optimal health. Ayurveda views health and disease as the end result of how we interact with the world, in terms of our beliefs, perceptions, thoughts, and feelings, which then ultimately determine our actions. Actions in harmony with our inner nature create health, while those dis-harmonious with our inner nature create disease.
Established in 1995, the California College of Ayurveda is the longest running, State-approved college offering professional training programs for the study of Ayurvedic Medicine in the West. CCA offers a comprehensive curriculum, with three levels of programs leading to certification as a Clinical Ayurvedic Specialist (C.A.S.). One of the leading Ayurvedic schools, the college offers a variety of shorter length workshops and seminars, and trains students to become the healers of the future, Ayurvedic practitioners dedicated to understanding the whole person – physically, emotionally, spiritually. To learn more about the programs offered in Spanish, please visit http://www.escuelaayurveda.com.