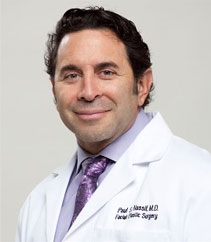 Los Angeles, CA (PRWEB) July 06, 2015
World renowned Los Angeles facial plastic surgeon, Dr. Paul Nassif, is now offering patients the opportunity to achieve their ideal appearance through comprehensive treatment solutions. Individuals that want to make multiple changes to their facial appearance are able to discuss their goals with the doctor and receive a plan that resolves each of their needs.
"Anytime I see an opportunity to change the life of a patient, it is easy to become invested in the process," stated Dr. Nassif. "Why set a limit to only one surgery if it does not leave the individual completely satisfied with their appearance? As long as there is no risk to their health or the quality of results, I am willing to help."
A comprehensive procedure plan may include a combination of the following facial treatments:

Lip Augmentation
Rhinoplasty
Otoplasty
Neck lift
Cheek Lift
An patient with significant aging signs may have the strong desire to undergo rejuvenation procedures, such as an eyelid surgery or a full facelift. This consultation provides an opportunity to also receive an evaluation for other treatments in order to resolve additional aesthetic concerns, such as an imperfect nose. Any healthy patient is a suitable candidate to receive a comprehensive plan that would work effectively to boost confidence in their outer appearance.
"Everyone has things that they would like to change about the way they look, even if it is a minor augmentation," this Los Angeles cheek lift surgery expert stated. "My job is to take the desires of each patient and find a way to make it a reality. I look at the challenging cases as an opportunity to grow and learn new ways to provide for my patients."
About the Surgeon, Expert in Double Eyelid Surgery Los Angeles
Dr. Paul Nassif is well-known across the world for providing exceptional patient care and has had remarkable success dealing with challenging circumstances. He is a proud member of the American Medical Association, California Society of Facial Plastic Surgery, and other respected organizations related to the industry. Some of Dr. Nassif specialties include ethnic rhinoplasty, reconstructive surgery, and revisions. The doctor is always introducing the latest techniques into his practice.